Becoming a Trauma-Informed & Skilled workforce
Move On is in the process of creating a trauma-informed and skilled culture & approach throughout the work that we do.
To start this process, we are building on our current practice and using the NHS Education for Scotland Knowledge and Skills Framework and The Scottish Psychological Trauma Training Plan to embed this in our services. These documents include a wealth of information and research. 
Being 'Trauma Informed' means being able to recognise when someone may be affected by trauma, collaboratively adjusting how we work to take this into account and responding in a way that supports recovery, does no harm and recognises and supports people's resilience.  
Source: NHS Trauma Informed – What is meant by trauma? 
At a Trauma Skilled level, we will be able to work in a Trauma Informed way, as mentioned above, but we should also have a greater understanding of how psychological trauma can affect people, how to support recovery and use these skills in practice. We have a number of staff who are working at a trauma informed and trauma skilled level.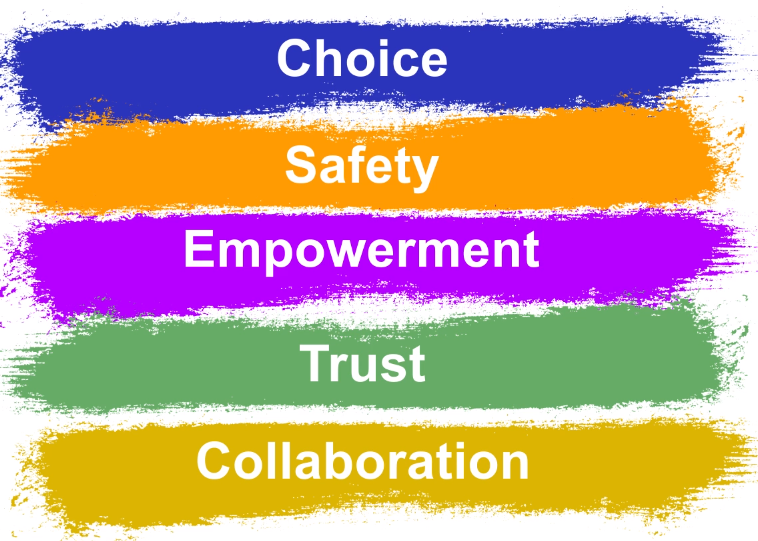 At Move On we're embedding the 5 Trauma Informed Principles set out by NHS Education for Scotland. The Principles include Choice, Safety, Trust, Empowerment and Collaboration.
What does this mean for you and why are we doing this?
We've decided to take this approach due to the high level of referrals we received across the services for people who have experienced trauma and adversity in their lives. We also know from the NHS Education for Scotland Knowledge and Skills Framework that trauma is more common than previously recognised across society and working in a trauma-informed and responsive way can improve things for everyone.   
It is not that our roles are changing or that everyone needs to become a trauma expert. It's about making small changing that can make a significant difference for everyone and reduce the likelihood of re-traumatisation. One way we can do this is by considering the 5 principles that underpin the trauma informed and skilled approach (see above).
You can learn more about the Transforming Psychological Approaches here.
Along with many other Scottish organisations, we've also signed up to the Leadership Pledge of Support.
To learn more about how we're changing our work practices you can learn more by viewing this document.
The video above was created in 2021 as a brief introduction to this approach for Move On staff. 
Above is Martyn's story as a mentee, where he touches on some of the Trauma Principles explained earlier.
Trauma & Mental Health Support Services
The Rivers Centre – Edinburgh
Health In Mind
Their Trauma Services are accepting referrals via the online enquiry form and will offer an initial conversation to discuss theirr service with you. Please be aware that the one-to-one services have extensive waiting lists.
Tel: 0131 225 8508
Health In Mind Counselling for Survivors of Sexual Abuse
Counselling offers a safe, confidential place where people can talk about the difficulties they have experienced in their lives. Health in Mind trained Counsellors will help support you through this process.
This is for 18+ for people who are survivors of childhood sexual abuse. It is a free service and there is a waiting list.
Tel: 0131 225 8508
Trauma Counselling Line Edinburgh
As it is telephone and video counselling, you don't need to worry about travelling to your appointment; you just need a quiet place where you can talk to your counsellor. You will have weekly appointments with the same counsellor, which means you won't have to repeat what has happened to you each time you call.
The service is free and confidential. The phone call will not show up on your phone bill and you won't be charged for video calling.
All Health in Mind counsellors are fully trained, highly experienced and from a range of backgrounds.
16+, self-referrals and referrals from third-party, free ad there is currently a waiting list.
Tel: 0131 225 8508
Email: counselling@health-in-mind.org.uk
Daytime and evening appointments available.
Edinburgh Rape Crisis Centre
ERCC offers specialist trauma-informed support to women, all members of the trans community, non-binary people and young people aged 12 – 18 who have experienced any form of sexual violence at any time in their lives. This includes rape, sexual assault, sexual abuse, child sexual abuse and commercial sexual exploitation.
Edinburgh Rape Crisis Centre offers free and confidential information and support. Services include:
long-term support (face-to-face, online or by phone); group support; crisis support if you have experienced sexual assault within the last 7 days; alcohol counselling; support for family, friends and partners; advocacy.
Self-referrals and referrals by third party, free service but there is a waiting list.
ercc.scot/who-we-support-and-our-services
Contact: Anna Carr
Tel: 0131 556 9437
Email: info@ercc.scot
Edinburgh Crisis Centre
They currently operate a telephone and email service 24/7. You can also arrange a virtual appointment with one of their staff team. 
The Crisis Centre is open 24 hours a day 365 days of the year and provides community based, emotional and practical support at times of crisis.
It is a service for people who are aged 16 and over who are using or have used mental health services and are resident in the City of Edinburgh when they are facing a crisis. This includes people who have seen their GP, used voluntary services and people who identify themselves as having a mental health issue. This service is for people 16+.
Tel: 0808 801 0414
Mental Health Assessment Centre (MHAS)
MHAS is an emergency mental health assessment service. They are a nurse-led team based at the Royal Edinburgh Hospital. They are available 24 hours a day, seven days a week. They also provide a service at the Royal Infirmary from 5pm – 8am Monday to Thursday and from 5pm Friday to 8am Monday.
MHAS is available for:
People experiencing a mental health crisis
People who need an emergency mental health assessment
People who have been referred by a GP or other healthcare professional.
Tel: 0131 537 6000
Mental Health Information Station (NHS Lothian)
The Mental Health Information Station is a one-stop-shop for anyone affected by mental health and wellbeing difficulties.
It provides a source of support, information and signposting. It is staffed by mental health specialists from the Health and Social Care Partnership (HSCP), peer support workers, volunteers and third sector partners.
The service offers: psychological self-help guides and resources; signposting to community groups/activities; standardised information on conditions and medication; information on support for carers
Free, no waiting list.
services.nhslothian.scot/mentalhealthinformationstation
Contact: Katrina Campbell
Tel: 0131 537 8688
Email: mentalhealthinformation@nhslothian.scot.nhs.uk
9.30am-4.30pm Every Thursday.
Glasgow Psychological Trauma Service
View their information leaflet here.
If you wish to discuss a referral to see if it is suitable, we would encourage and welcome a telephone consultation. If you would like to discuss the service in more detail, please contact Dr Lisa Reynolds on 0141 303 8968.
Glasgow Association for Mental Health
They promote the mental health and wellbeing of people and their communities; providing more than 2000 hours of community based support every week to people in Glasgow.
Tel: 0141 552 5592
Other Crisis Helplines & Websites
Breathing Space Helpline (6 pm – 2 am) 0800 83 85 87 
Rape Crisis Scotland (6 pm – midnight)  0808 801 0302
National Scottish Domestic Abuse Helpline  0800 027 1234
Samaritans  116 123  
Childline  0800 11 11 
Edinburgh Crisis Centre Freephone  0808 801 0414
Psychiatric Emergency Team 0131 537 6000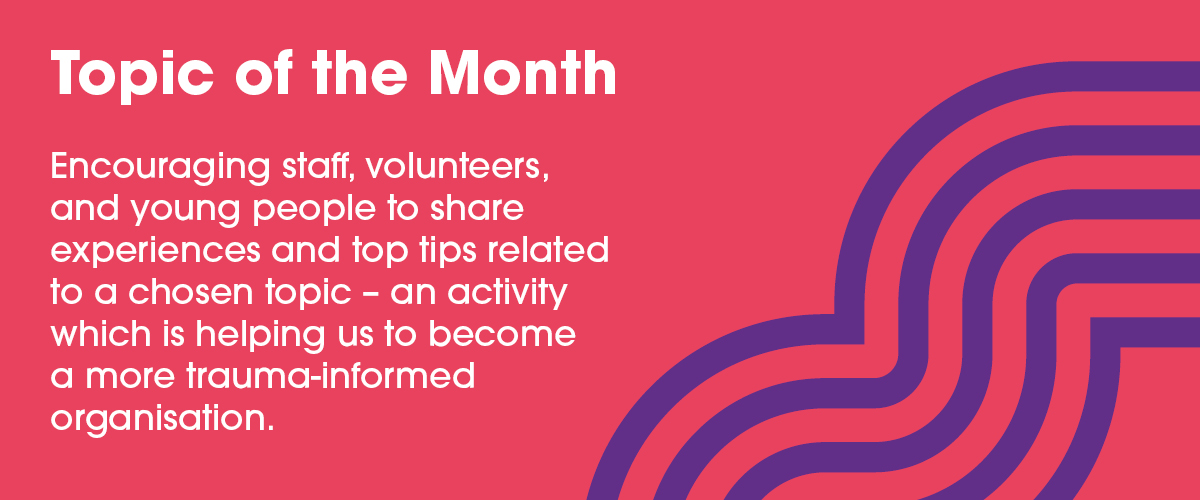 Our Topic of the Month blog
Why do we run a Topic of the Month?
The topic of the month forms part of our trauma-informed approach, using the Trauma Lens to review our services. After the first review, staff suggested that we could have a topic of the month to share top tips and experiences and receive regular feedback. We then created a survey for staff, volunteers, and young people to gauge interest and identify which topics they'd like to see. They said they'd find this really beneficial and selected their top topics.
Each month we ask staff, volunteers, and young people to discuss the topic and share their experiences and top tips. We review this every 6 months and update the topics based on the feedback from staff, volunteers, and young people. 
Bullying (in-person & online) and keeping safe online (May 2023)
How it started, how it's going (March 2023)
| | |
| --- | --- |
| We're thinking about and celebrating big or small progress. This month we're sharing mishaps or lessons learnt while working towards our goals. | |
Communication is key. Even if things feel tough, keeping in touch can help everyone feel like progress is being made – even if you're not meeting in person.
Mentor
Lighter nights have made me happy. It's good to be aware of the changing seasons.
Mentee
I achieved all of my goals with mentoring and feel more happy and relaxed.
Mentor
I'm getting out of the house more which helps my wellbeing, and I look forward to it each week. I aim to try more new places and build on my confidence.
Mentee
It's okay to try something new. If it's not for you, you can change it.
Mentor
I aimed to use the bus alone and managed it once. I'll keep working in it with my mentor.
Mentee
I aimed to get in more steps this month. I started with 2,000 per day and keep building it up. 'Small' steps help change habits.
Mentor
Managing debt & the cost-of-living crisis (April 2023)
Ask if you need help 🙂
Development worker
Get a hot water bottle and/or some blankets!
Spring has been slow to spring this year… but Move On can help.
If you need any extra support, let your Move On worker know.

The National Lottery Community Fund awarded us with funding at the end of 2022 which is still available. We can provide:

Winter clothing & blankets, supermarket vouchers, hygiene products, energy & mobile data top-up cards, activity parcels for families and laundry products.
It's been good to get gas top ups and shopping vouchers from Move On.
Mentee
Track what you spend and then make a budget.
Mentor
Plan your weekly meals so you aren't shopping every day.
Mentor
Shop around for the most affordable food and keep an eye out for deals. Start to shop later in the evenings and begin to notice when the reduced aisles are topped up. Snatch the best reductions and just put them in the freezer.
Mentee
Try to have a cooking day or session. If you cook several meals at once you'll cut down on how many times you use the oven or hob. By cooking an 8-10 batch meal and freezing half, all you have to do is re-heat in the microwave. This uses much less energy than cooking a meal from scratch.
Uswitch have written a great article which includes 23 top tips for energy efficient cooking.
Don't be shy to ask your Move On worker for extra support. They can share info about other things available in the community.
In December's Topic of the Month, Winter warmers to make us feel better, we mentioned The Crannie in Edinburgh. There's lots more help available, and your worker might suggest Citizens Advice, local offices, and ways to get top ups or gift vouchers.
I worry about my parents debt. It's good to know what support is available.
Please speak to us if you need any help or advice on this.
Healthy relationships & challenging relationships (February 2023)
This month we discussed Healthy Relationships & Challenging Relationships at our LGBT event.

One of Amy's young people said that in healthy relationships people support each other; communicate (even if it is
something bad, they talk things through); there is trust and people are loyal; people are there for each other;
and they defend each other in conversation when others put them down.

How would you describe a challenging relationship?
Winter warmers to make us feel better (December 2022)
I like to get y cosy fluffy blanket and pj's, my salt lamp and a wee Netflix drama.
Glasgow Mentor
I love to close my blinds, soft lighting and fairy lights, cosy blanket, jammies and a hoodie.  Hot drinks and lots of chocolate whilst watching re-runs of Only Fools and Horses, Christmas movies (The Holiday and Love Actually).
Development worker
I turn on my PS5 and play games or cuddle with my dog and watch a movie.
Leigha, Glasgow mentee
Amy said that one of her young people is spending Christmas with their friend's family, so said they're grateful to have friends to reach out to.
One of our mentors had on his most recent feedback form, that they made new years resolutions together with their mentee. This has given them something positive to look forward to when they meet again in January.
| | |
| --- | --- |
| When we dropped the rest of the soup veggies at The Crannie in Edinburgh, I got to see the choice they have in their Pantry. For example when I was there they had bananas, apples, french baguettes, pretzels, pastries, as well as dry foods like pasta. They also have sanitary products and a wide range of toiletries. Check out their Facebook to see what else they have on! | |
I like to spend time with family, we have lots of traditions in our family. For example giving a gift on Christmas Eve, wearing matching pyjamas and enjoying spending time together at this time of year.
Mentee
Spending time with friends and family in-person or online, or reaching out to make new friends.
Mentor
Enjoying time on your own and spending time outdoors.
Mentee
Cooking something nice like soup!
Mentee
Watching my favourite films again, putting on candles, having a hot cup of tea, getting cosy slipper socks and having nights in.
Development worker
Links to support in Edinburgh
In Edinburgh you can get a foodbank referral by ringing the Scottish Welfare Fund on 0131 529 5299. You don't need to get an organisation to ring for you, you can do it yourself. But if you have any problems contact ECAP.
Links to support in Glasgow
If you need support or want to talk more about the cost of living crisis or any support you need please speak to your worker at Move On.
Top tips for quality sleep (November 2022)
My young person brought this up organically today and we discussed only going to bed when you're really tired otherwise you just lie there thinking. He also said his tip for falling asleep was to think about what you're excited to do the next day, like meeting a worker.
Mentee
Top-tips from the Move On team would be:
Close off your phone about 15 minutes before you go to bed and get into a bed time routine.
Having a morning routine can also help e.g. getting up at the same time each morning, stretching or doing yoga, eating breakfast whatever suits you
Listen to music or a podcast before going to sleep
Small things (October 2022)
Crunching leaves. I love this time of year when the leaves change colour and fall to the ground. I find it quite therapeutic to kick the leaves around the park. It's also good to bring some home and use to decorate the home for Autumn. It's easy to make a wreath or use as alternative to paint brushes.
Young person
My young person asked to walk up Calton Hill in the rain, and he spotted a lovely little robin up ahead on the path. We stopped as he pointed it out and it flew across into the bushes. It was a nice moment to take notice of our surroundings and take a pause during our chat.
Development worker
I'm a big one for looking around when I'm out and about. I like to see all the different dogs when out walking and watch the leaves change at this time of year.
Development worker
On my way home yesterday on Calton Road I saw a tiny wee animal dart across the road onto the pavement in front of me. At first I thought it was a mouse and a girl coming in the opposite direction stopped at the same time as me to watch him scurry around. I realised it wasn't a mouse but a weasel! It felt really nice as me and this stranger shared a funny and surprising moment, and I've never seen a weasel and didn't know they lived in cities. I looked them up when I got home and felt like I learned something about nature too which is always nice!
Mentee
Friendships (September 2022)
Amy met one of her young people, and their advice was to: 'use what you're interested in to meet other people, as this gives you a reason to meet up. At the end of the game you can make a plan for the next time'. They also said they used big news events like the Queen's death as conversation starters because everyone has an opinion on it.
Our Young Funders group joined us this month. This is what they agreed:
Purpose of friendships:
Provides us with a sense of belonging
They prevent us from feeling lonely
you feel 'part of' something bigger than just yourself
What you look for in a friend:
A sense of humour – funny, silly daft antics occasionally
Open, honest and supportive; and doesn't gossip about my stuff
Healthy boundaries and respects my privacy
Good conversation; and listens to learn rather than just to respond
What breaks down or prevents friendships:
Not backing your friend up
Backbiting, gossiping, disrespecting a confidence
How to form frienships:
Join a group

either in school or outwith school – e.g. study support groups, drama/chess/cooking/sport/art).

Learn a new skill

– e.g. snooker/pool/tennis as you can use this to make new friends, example if you are on holiday alone with your parents you can usually find someone similar who has no friends with them and playing pool helps to form friendships, have the courage to make the first move by talking to someone first – they might be as shy/lacking as confidence as you – so push through the apprehension.

Join online groups

– sometimes these can lead to in person friendships (but always be mindful of personal safety online.

Keep updated on current events

as this allows you to have something current to talk about
Boosting your concentration (July 2022)
The importance of self-care (March 2022)
Leaving the house feeling confident (Feb 2022)
Breaking out of your comfort zone (January 2022)
Winter night positivity tips (December 2021)
Coping with stress (November 2021)