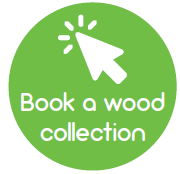 Move On Wood Recycling is a social enterprise in Edinburgh which collects waste wood, sells quality timber and provides volunteering, training and work experience opportunities. 
Waste wood collection
We offer an alternative waste wood collection service which is 40% cheaper on average than an eight yard skip.
With a workshop in Granton, we collect waste wood from anywhere across Edinburgh and the Lothians. Our waste wood collection service is available to trade and domestic customers.
By looking at what waste wood can be reused instead of being chipped, our service reduces landfill use and the production of methane gas.
High quality timber
We sell quality used timber which is 40% cheaper on average than new wood. Our stock of timber changes regularly, but we usually carry plywood, floorboards and various construction timbers as standard.
Employability training
Split between our Edinburgh office and Move On Wood Recycling workshop, we offer Building Brighter Futures, an eight week employability course for young people who are interested in gaining qualifications and skills in a wood workshop. The course allows young people to achieve employment focused accreditation, certification and practical work experience. We also provide ongoing support to help young people achieve the next step on their employment journey.
Contact
If you would like further information, please visit the Move On Wood Recycling website or contact the team on wood@moveon.org.uk or 0131 551 6937.
If you're interested in volunteering in our Move On Wood Recycling workshop, please click here.