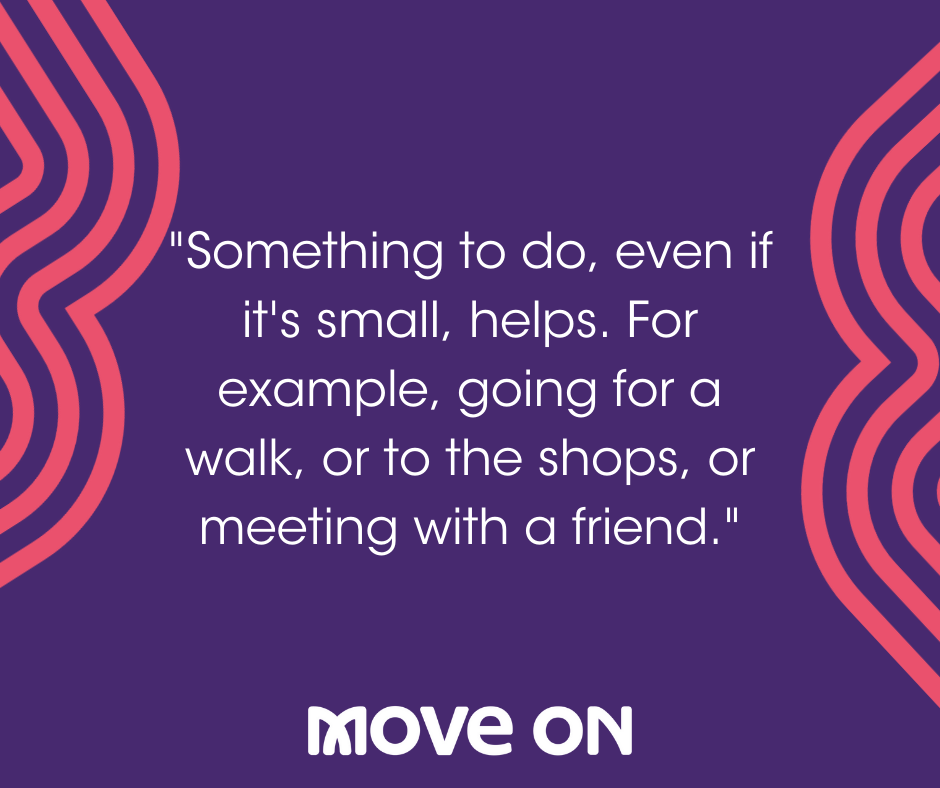 This February at Move On, we've been talking about feeling confident when leaving the house.
We recently asked our young people and mentors to choose six topics they'd like to discuss. They exchange their thoughts on one topic with our staff each month. We then share their thoughts and experiences here!
Our six chosen topics are;
Leaving The House: Feel Confident
Self care
How to boost your concentration and motivation
This month, our Elevate Glasgow Creative Writing Group for adults in recovery also joined in with their own spin. They submitted poetry on the topic of what gets them out of bed in the morning – some funny, some poignant, all personal. You can read their pieces here (and we recommend that you do!)
Leaving The House – First Thoughts
Many people deal with feelings of anxiety around the idea of leaving the house – it's more common than you might think. This varies from feelings of mild stress and discomfort, to more severe anxiety or panic disorders. The most commonly known of these is agoraphobia. Agoraphobia, however, is a widely miscategorised condition; actually referring to an intense fear of entering certain situations from which escape may be difficult, rather than a specific fear of leaving the house, as many people believe.
Fear around leaving the house alone is a common issue among our young people. In some cases this is related to the kind of anxiety disorders described above; however there are also many other possible contributing factors. These include lack of opportunity, poor social networks, and low incidences of trusted adult figures to offer guidance.
This is often something that our mentors and development staff work on with our young people, helping them build confidence, and find their way forward. This might mean braving new experiences with their mentors, attending their first real job interview as part of one of our employability schemes – or simply having the courage to take public transport alone to an agreed meeting place.
Leaving The House – The Bigger Picture
A serious and well-publicised impact of the pandemic has been a marked deterioration in mental health throughout the UK. More people than ever before are reporting feelings of loneliness, anxiety, or emotional distress, with much of this identified in younger age groups. Unsurprisingly, increased anxiety around leaving the house is a key factor in this.
With every new wave of lockdowns, the subsequent easing of restrictions is met with a combination of joy and fear, as we grapple with our ever-changing circumstances; the pleasure of reuniting with loved ones and returning to our favourite places and pastimes starkly juxtaposed with the fear of contracting the virus, or passing it on to vulnerable acquaintances.
Essentially, this means that more people than ever can relate to an experience that many of the young people we support have been dealing with almost their whole life. Far more people can now understand the challenges posed when anxiety limits the day-to-day activities we often take for granted.
In response to this, our young people and volunteers chose to reframe their original planned discussion topic for this month. Originally, they planned to discuss how to feel confident participating in group settings such as college, school, or work. They ultimately decided, however, that this wider topic would allow them to offer their unique, experienced perspective on how to cope with leaving the house in the current climate.
With this week marking two years since the first lockdown, we hope that their tips can help as many people as possible.
Find What Feels Good
Firstly, many of our contributors offered tips on preparing for leaving the house. They found that it's important to identify what you need to do to make yourself feel good. You can then set a routine around this – a great start to banishing anxious thoughts.
Thinking ahead, and taking small steps towards self-care can make a world of difference. For example, one young person shared that, if they know they need to get up and out, they make sure to drink a large glass of water before heading for bed the night before. This helps them to wake up hydrated, well-rested and ready to go. Lack of sleep and dehydration have both been identified as factors which can contribute to increased feelings of anxiety, so avoiding these potential triggers is a great tip.
They also make sure to set several alarms on their phone, so they're awake and out of bed well in advance of when they need to leave. This allows for plenty of time to prepare, rather than increasing your stress by rushing around trying to get ready at the last second. I'm sure we've all done this before!
Feeling Safe
So that's a start – but what can you do to help once you're out and about?
The team agreed that one great thing to do is make sure you have headphones handy, and something to listen to while travelling. This is a tip we've found coming up often, including in our recent Winter Nights post. You can choose whatever makes you feel calm and comfortable; your favourite music, a podcast – one of our Elevate group shared in her 'Out Of Bed' poem that she likes guided meditations the best.
Routine and familiarity also featured again here, with one young person adding that he feels far more secure if he knows where he's going in advance;
"Practice your route – know how to get wherever you're going so you feel comfortable. Don't talk yourself out of going for fear of not knowing how to get there."
Make A Plan
In fact, our group were all in strong agreement that having a set plan in advance is their best way to overcome worries.
One of our young people mentioned to his development worker that he very rarely left the house last year. As discussed, this is something many of us can relate to today, between lockdowns, isolating, and shielding. Our mentee has been able to successfully turn this around by putting solid plans in place whenever he's leaving the house.
He finds having plans gives him a strong push, forcing him to get going. He recommends making plans early in the week to ensure things get off to a good start. To this end, he likes to meet his mentor on Monday mornings at 9am. Another young person agreed, sharing that;
"Something to do, even if it's small, helps. For example, going for a walk, or to the shops, or meeting with a friend."
Generally speaking, we found that the more you're looking forward to your weekly plans, the easier it gets to overcome anxiety. The group mentioned seeing friends, attending courses, and heading out for a special meal (or even just a coffee) as their top reasons for getting out of the house!
Really though, it's about finding what works for you. Considering the theme as a whole, one young person shared that their best reason for getting out of bed was their cat. Whatever works – you do you!
Contact
If you have any questions or thoughts about leaving the house that you'd like to share, or about Move On generally, you can contact us here.
Anxiety and stress around leaving the house can have a real and serious impact. It's always OK to admit you're struggling – and more importantly, to ask for help. If you need someone to talk to – at any time of day – we recommend the following resources;
Call Breathing Space for a free and confidential chat on 0800 83 85 87
Call Samaritans Scotland for free on 116 123 or send them an email at jo@samaritans.org
Shout offer free 24/7 mental health support by text – simply text 'Shout' to 85258
If you believe you are suffering with an anxiety or panic disorder, speak to your GP for help managing this. The NHS also have a number of resources around dealing with anxiety, available here.
Until Next Time…
If you like what you've seen here, why not head over to our Facebook, Twitter and LinkedIn pages? We'll be featuring snippets and advice from this post – don't forget to like, share, and leave a comment letting our young contributors know how much they've helped!
And be sure to keep an eye out for our next Topics For Discussion post, with top tips on self-care – coming to the Move On blog soon!