There are a variety of ways which we can work together to create a mutually beneficial partnership.   
By partnering with Move On, your organisation can help make a positive impact to the lives of vulnerable young people and people affected by homelessness, while effectively building your reputation as a socially responsible company and making connections in the community.  
A dedicated member of staff will work closely with you to ensure that your business achieves the best possible results from our partnership. 
Benefits to your business
Association with a charity which is recognised for supporting vulnerable people in Edinburgh and Glasgow

 

Achieving your corporate social responsibility objectives

 

Generation of positive PR at a local and national level 

 

Promotion to a wider audience through our website, newsletter and social media
A guarantee that all money raised will go directly to support Move On's services

 

Boosting staff morale by committing to a cause which they care about

 

Motivating staff to take part in fundraising events and other team building activities 

 

Opportunities to see first-hand the difference your support makes with staff tours of our FareShare Glasgow and West of Scotland warehouse in Glasgow and Move On Wood Recycling workshop in Edinburgh

 
Types of sponsorship
We can create a bespoke sponsorship package which suits the interests and objects of your business.  
There are a variety of ways to support our services with vulnerable young people and people affected by homelessness, including: 
Donations 
Fundraising  
Business mentoring 
Training 
Staff volunteering 
Legal and other pro bono support 
Use of meeting rooms and other facilities 
Playing an active role in our employability services (e.g. offering placements, interview practice, etc.)  
Contact
If you're interested in corporate volunteering or partnering with Move On, please contact Rachel at rachel@moveon.org.uk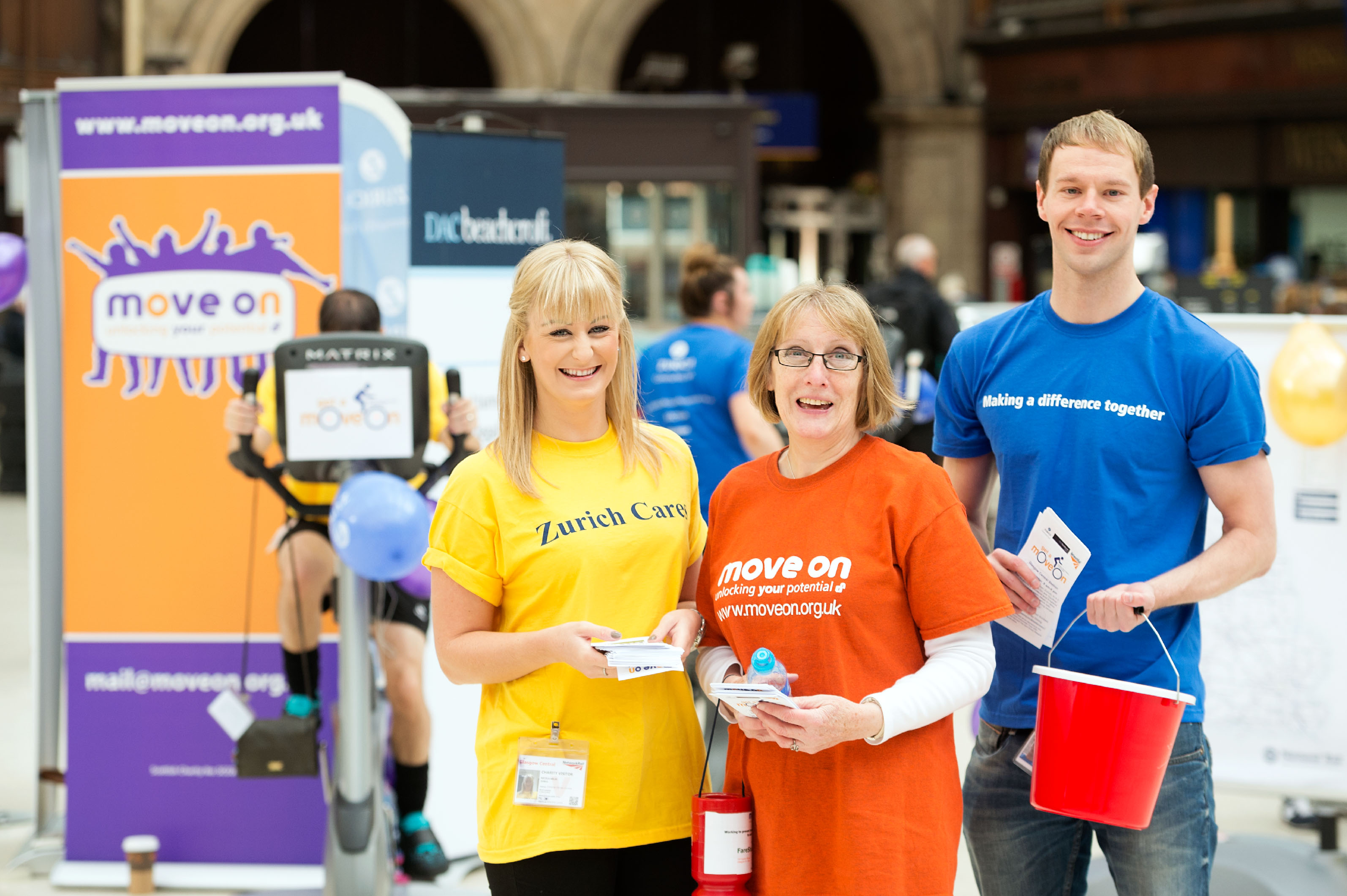 "This partnership has offered my team the chance to roll up their sleeves and volunteer at the Fareshare warehouse; to design and deliver employability sessions for small groups of service users; and to project manage a fundraising event where we organised an all-day sponsored cycling event in Glasgow Central Station on static bikes!"
"Every year RBS graduates in Scotland choose a different local charity to support, and after learning about the great work Move On do with young vulnerable people in our community, we voted them as our charity of choice for 2016. It's been a real privilege to support their work and we've tried to do our bit by supporting fundraising initiatives and volunteering to help them make real improvements to the lives of young people in our community."