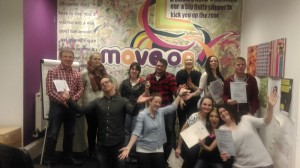 By Janet Mundy, Move On Fundraiser
As a fundraiser, one of my greatest pleasures is to meet with the people we support and learn how we have helped them achieve their potential.  Last night in Edinburgh we held a celebration and graduation ceremony for the young people who have completed our Youth and Community Skills programme this year.  Rather than my telling you how Move On has affected their lives, here's what they said when they made presentations last night.
"I've been homeless myself and I knew what I was talking about.  I found out when I was coming here that I wanted to be a youth worker.  Move On helped me get an SQA, which is brilliant.  I've got more qualifications now and it's inspired me to do more volunteering.   Thank you."
"My support worker thought it would be good for me as it would give me a confidence boost – I'm standing here, which I wouldn't have been a few months ago!  For me, coming and doing the course helped me develop my personal skills and work with people who've got similar experiences.  Now that I know other people are experiencing the same things, it makes it a bit easier to interact with people.  It has given me a lot more confidence and hopefully has helped me progress towards working in youth work and it's given me more hope for the future.  I feel like I have a lot more direction."
"I was with Move On for about 2 years.  I was living at the Salvation Army at the time.  What I learned from Peer Ed was learning to deal with situations with people and interacting with them.  It also gave me organisational skills.  So now I've got my own house and stuff because of it, and now I'm at college as well.  Having a job and going to college is something I never thought I'd have."
And here's a video of one of the young people, Stephen McKinstry, introducing his performance at the event.  If you'd like to know more about his music, you can follow him on www.facebook.com/stevenmckinstrymusic.
Congratulations to everyone who received their certificates last night – you make our work worthwhile!
For more information about our Youth and Community Skills (peer education) programme, see https://moveon.org.uk//peer-education.