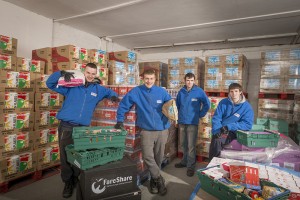 Move On are looking to recruit some inspiring new young people to join our accredited Move On FareShare Employability Programme commencing end June 2017.
We are looking for young people who are aged 16-25, who have been affected by homelessness or have been looked after and/or accommodated.
Are you interested in a career in warehousing and improving your employability skills? The Move On FareShare Employability Programme is a unique programme for those wishing to gain some valuable employability training as well as undergo work experience in a live working environment at our FareShare depot.
The training and work experience will be provided simultaneously – this way you will be able to get a taste for both aspects of the course right from the beginning. The course itself is 6 weeks; however this is flexible if you are interested in continuing involvement with us.
As a volunteer at the FareShare depot you will gain experience in stock taking, manual handling, sorting deliveries and order picking among other things.
We offer SQA-accredited training including an Employability Award and Core Skills Communications Level 3.
You will have the opportunity to gain your Elementary Food Hygiene Certificate (REHIS) and a certificate in Manual Handling.
The programme offers a one to one worker who will support you to move into volunteering, training or employment.
The programme is two days per week, lunch and travel expenses provided.