Move On Needs Your Vote!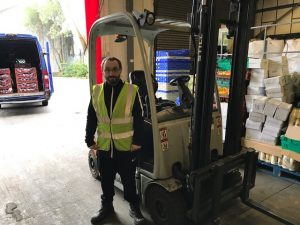 We are delighted to announce that Move On has been shortlisted for the Developing Young Workforce (DYW) Opportunity Fund to support four young people in completing their forklift training.
The public vote goes online today (Tuesday 29 August), open until 5 pm on Tuesday 5 September, and we need you to vote for us. Make it count for Move on and help us unlock potential, and change more lives.
Your Vote Matters
We've just learned that our charity has made it to the final fifteen of the DYW Opportunity Fund and, whilst all the other charities are equally as worthy, just one will win this opportunity.
Why We Need Your Vote
Move On trains and supports 30-40 disadvantaged young people each year as volunteers to gain warehousing skills in our FareShare Glasgow & the West of Scotland food redistribution depot. This leads to SQA qualifications in employability and vocational certifications (including manual handling, food hygiene, and health and safety), skills that will significantly improve a young person's employability.
We provide forklift training through external providers to young people who have demonstrated a strong commitment to volunteering (e.g. attending regularly and completing qualification coursework). The training is then followed up by at least 100 hours' work experience on the warehouse forklift. This provides a sufficient level of experience for major employers and significantly increases a young person's chance of gaining employment.
What Is The Closing Date For Voting?
The closing date for votes is Tuesday 5 September 2017 at 5 pm.
Where Do I Vote?
The link to vote is here: http://www.dywglasgow.com/voting-dyw-glasgow-opportunity-fund/
From Our Executive Director
John Hinton, Executive Director of Move On, said: "Move On is thrilled that the judges have recognised the importance of this particular training we offer to young people who need our support and guidance to move their lives forward.
"The forklift training also includes 13 whole weeks of supervision and the result is a better chance of employability that can turn a young person's life around."