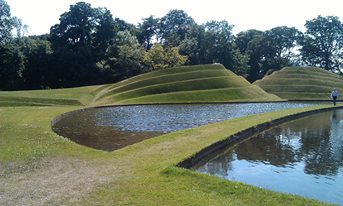 As a pair, our volunteer mentors and young people build a positive relationship working together towards a goal chosen by the young person. This is done differently in each pair and through innovative, practical, fun ways!
Ultimately through these meetings Move On aims to improve outcomes for vulnerable young people such as increased self-esteem and social confidence, extended social networks and improved employability.
Here are a selection of some great activities our mentors have visited with the young person they are working with:
Doodles ceramic painting
Doodles is a 'Paint your own' ceramic workshop, where our mentors have got creative and decorated mugs, bowls and loads more. Our mentor said:
"The studio is relaxing, quiet and informal with a nice mix of people from kids to adults. You can easily spend a good few hours being creative and achieving something amazing and unique, while having a chat, and a laugh at the same time."
There is no time limit, and lots of help on hand! They offer a 20% discount for charities too, which will keep the price down. Our mentor felt the young person gained a real sense of accomplishment whilst relaxing and getting creative, making for a very enjoyable day.
Botanic Gardens and Jupiter Artland
These have both been very popular amongst our mentors combining exercise and the outdoors! Some mentors have developed this idea further and headed off for longer challenging walks too.
Photography around the city centre
Our mentor and young person spent a few hours taking photographs, a hobby they have in common. They walked around Royal Mile, Calton Hill or up Arthurs Seat photographing the architecture and scenery. Or volunteer mentor said:
"It is a nice way to spend a few hours looking at the city in a different way and taking photos. Easily done on a mobile phone with a camera or sharing a camera trying out different modes and settings. It was a wonderful way of chatting informally while walking or sitting taking in a view.  We also grabbed a coffee after to review the photos."
National Portrait Gallery
The National Portrait Gallery offers numerous displays in a beautiful building where our mentors and young people can wonder around and explore. Our mentors said:
"It provided us with a focus for the meeting and allowed them to explore art, a subject they are really interested in. We were able to get a cup of tea after and talk about our favorite pieces in the café. An activity like this really helped break the ice."
Edinburgh Leisure gyms, fitness classes and sports opportunities
A mentor and young person attending the gym together has been great way to not only increase fitness and therefore physical and mental wellbeing, but coupled with other things has indirectly increased self-esteem and confidence. There are lots of opportunities for this depending on location!
Do you have any skills or hobbies that you could share with a young person? If so, mentoring could be a great way for you to share your life experience to benefit a young person!
If you are interested in becoming a mentor in Edinburgh or Glasgow please get in touch with our Mentor Coordinator Laura by emailing laura@moveon.org.uk