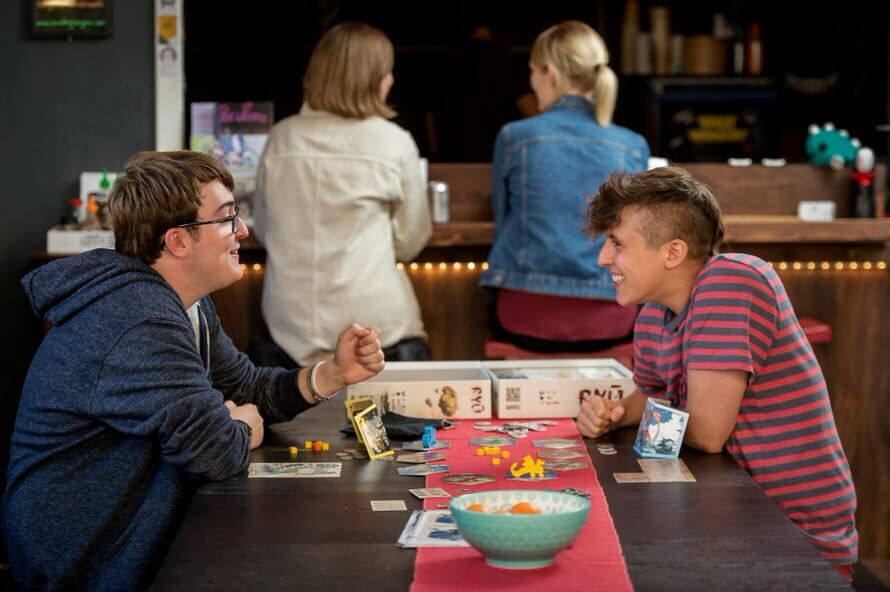 Befrienders wanted! Are you looking for a new opportunity to give back? Why not volunteer with us?
We deliver our befriending programme in Edinburgh in association with LinkLiving, a trauma-informed Scottish health and wellbeing charity. We're now looking for new volunteer befrienders to help vulnerable young people aged 16-25 to meet their full potential. Training for this will take place in June 2022.
The young people we support on our befriending programme are making the transition from supported living to managing their own tenancy. Many of them are vulnerable as a result of a number of issues. These include homelessness, family breakdown, mental health problems, or drug and alcohol misuse.
We match our befrienders with a young person with similar interests to their own. Matches will then meet once a week to take part in a relaxed leisure activity. This will usually be something like meeting for a coffee, a walk in a local park, or visiting a museum. The young person may already have particular activities in mind, but we also encourage befrienders to introduce ideas for new activities where appropriate.
Volunteer befrienders meet weekly with their young person for up to six months. The goal is to develop a trusting relationship and offer support as they transition into independent living.
Impact
Your role as a befriender is to provide emotional and social support. This is important to help your young person feel more comfortable, and grow their confidence during what can be a difficult time in their life.
Your key aim is to support your match to reach personal goals. This includes making connections within their local community to form positive social networks.
Befrienders also often support and assist their young person to re-engage with or seek out education, training and employment opportunities. Through building a supportive relationship, our volunteer befrienders increase the chances of a young person going on to lead an independent and fulfilling life.
Role Requirements
All of our volunteers must be happy to undergo an enhanced PVG check prior to being matched. Move On policies and procedures, including health and safety and safeguarding, must be followed at all times. It's also important that our volunteers respect the confidentiality of our young people. This includes ensuring that any information shared in confidence stays within the appropriate Move On channels. Don't worry though – we'll cover all of this during your training, and you'll always have support in place to keep you right.
You'll also need to be reliable. You're supporting a vulnerable young person, so it's key that you're able to show up on time to meetings with them. This will help them develop a sense of stability and trust within the relationship. Matches may meet for up to 6 months, and we expect that the recruitment, training and PVG checking process may take up to 3 months. For this reason, we ask that you please only apply if you're confident you can be available to volunteer for at least the next 9 months.
Above all, we look for volunteers with good communication skills, who want to make a difference to a young person's life. It's really important that you're able to listen to our young people, and keep an open, non-judgmental attitude. Some of our young people come to us from chaotic backgrounds; it's important that you can be accepting of this. We'll of course be on hand to help you navigate this at all times.

Support
We'll provide six hours of in-depth volunteer training before you're matched with a young person. This takes place over two sessions, giving you time to absorb the information and feel completely ready for your new role.
Our next training sessions will take place on the 20th and 28th June from 5-8pm. These will be delivered online via Zoom. We'll give you a full overview of everything you need to know about the programme. You'll also have time to ask any questions you may have.
Once you've been matched with a young person, a dedicated member of the Move On staff team will provide you both with ongoing support. We place an equal importance on the well-being of both volunteers and service users. We'll help make sure you understand your own limits, and can put in place personal boundaries around them. We're committed to helping both you and your befriendee get the absolute most out of your experience with us.
We'll also cover all reasonable expenses, so you'll never be out of pocket for any activities you take part in.
The Rewards
Working with us is often as life-changing for our befrienders as it is for young people. By taking on a rewarding volunteering experience, you can be happy in the knowledge that you're genuinely changing the life of a young person.
After working with us, our volunteers also often tell us that they feel more confident, less stressed and have a better sense of purpose in their life. Some have even changed their career path to help young people full time!
By volunteering as a befriender with us, you'll provide vital support for young people in your local community. You'll also have the opportunity to learn and develop new skills, while gaining an understanding of homelessness, supported living, and the impact this can have on young people.
Our befriending service is also a unique opportunity to enhance your CV. Volunteering as a befriender helps improve your communication and leadership skills. An increasing number of employers also highly value volunteering experience.
It's also a great way to make meaningful new connections, and have fun!
How To Apply
If this sounds like the volunteering opportunity for you, please complete our application form and equal opportunities monitoring form. Please return this to Louise on louise@moveon.org.uk.
More Information
For further information please download our befriender Information Pack, or contact Louise on the email above, or 07394560458.You can also find information on our website about our befriending services, or other volunteering opportunities.
We also share all vacancies and opportunities, as well as good news stories from the work we do at Move On, on our Facebook, Twitter and LinkedIn pages. If you'd prefer this direct to your inbox, you can also sign up to our new monthly e-newsletter.
For general enquiries, please fill out our online contact form, and a member of the relevant team will be in touch ASAP.