Media Release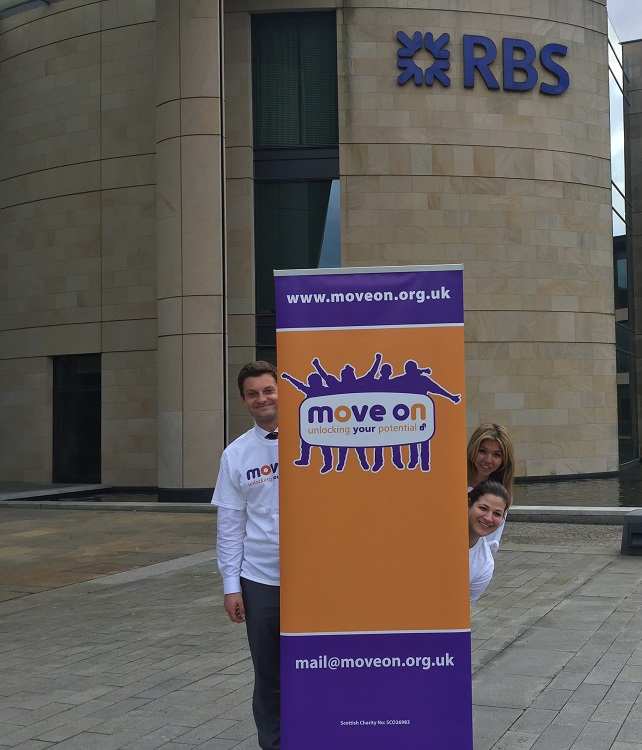 If you're around Edinburgh in the 24 hours from 5 pm on Wednesday 27th July, watch out for groups fundraising for Move On, a local charity that works with vulnerable young people and homeless adults. These groups are part of the RBS Graduates Anniversary Challenge – 9 teams competing against each other to see which team can collect the most in 24 hours. You'll recognise them by their Move On t-shirts, collection boxes and some bleary eyes by the end!
They have chosen various different activities, including quiz nights, sleep outs, spin cycling, bake sale and a dance class. Two adventurous teams have ventured further afield, one walking Hadrian's Wall and the other climbing Ben Nevis. You can follow their progress online using #MoveOnChallenge.
Behind the team-working is a serious purpose – to raise money and awareness of Move On's work. Move On offers a range of services providing advice, training, guidance and support enabling vulnerable young people and those affected by homelessness to unlock their potential and achieve a range of positive outcomes including securing or progressing towards a job, accessing and sustaining a home, building confidence, growing support networks and increasing life skills.
In many cases, engaging with Move On transforms people's lives. In 2008, The Scotsman newspaper featured a story about a 13-year-old boy headed "Kicked out of school ten times in one year". That boy is James Frame, who was homeless when he was first referred to Move On four years later. He completed an employability course, continuing as a volunteer, including helping with an anti-sectarian group challenge and carrying out inspections of young people's services with the Care Inspectorate. He is now working for Move On as a trainee development worker and says "Move On really made me grow as a person and find that professionalism I desired. I'm not at the top but I'm on my way!"