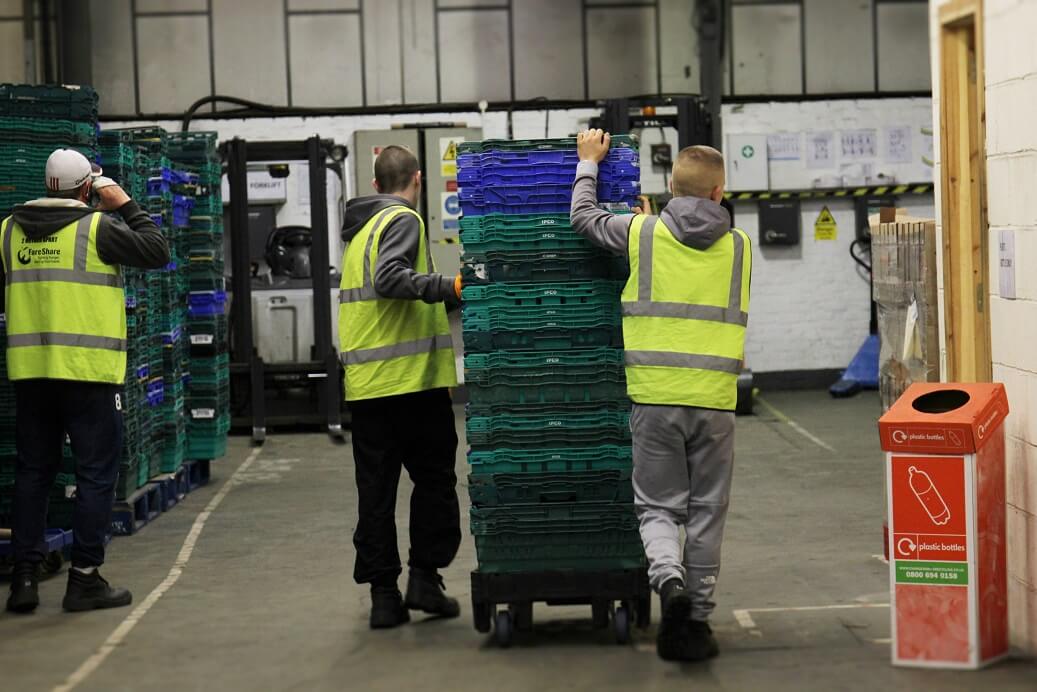 We're now taking applications for our new training course for young people in Glasgow!
Training for Work is a unique new training course delivered at FareShare Glasgow and the West of Scotland, a 12,000 square-foot functioning warehouse in Scotstoun.
Participants will be part of a supportive team of staff and volunteers in a live working environment.
The course is open to 16-19 year olds who live in Glasgow City.
What young people can gain from our training
Training for Work offers young people in Glasgow the opportunity to gain:
• Practical work experience
• In-work skills and knowledge of the warehouse sector
• A range of industry recognised qualifications, including manual handling, health & safety, and SQA qualifications
• Support to take the next steps on your employment journey
What training topics will be covered
Move On's skilled and experienced employability staff will deliver the course through a comination of 1:1 and group work sessions.
Training topics covered will include:
• Workplace expectations
• Dealing with difficult situations in the workplace
• Job applications and interview techniques
• Confidence building
• Leadership
• Team building

Expenses and allowance
Lunch and travel expenses will be provided.
Training allowance is also available for eligible young people.
First group starting soon
Training for Work starts the week beginning Monday 17th July and will run for 3.5 days per week over eight weeks.
Contact Shug or Rebecca on 0141 221 2272 or shug@moveon.org.uk or rebecca@moveon.org.uk ASAP to sign up.
Spaces are limited so don't walk, RUN!
All in Glasgow
Training for Work is part of an ambitious new employability training programme, All in Glasgow.
All in Glasgow brings together 17 charity partners to provide specialist support to 1,500 people facing challenging times to gain qualifications and opportunities that lead to long-term employment.
Scotland's biggest third sector consortium, All in Glasgow will help people into work. The service includes three streams:
Training for Work is for people looking for work and can also support those in work who are at risk of redundancy. You may be disengaged from education or mainstream services, have a disability or mental health condition, have caring responsibilities, or be impacted by poverty. This is the stream that Move On will help to deliver.
Progress for Parents is a service specifically designed to help and support disabled parents who have children under 16 and who are not currently engaged with employment services. Find out more.
Supported Employment is delivered exclusively by Enable Works, who work with employers to gain a better understanding of issues affecting disabled people, building their capacity to recruit from all sections of the community. Find out more.
The multi-charity partnership will ensure that those accessing any service can be signposted to another, more appropriate avenue without having to start the application process again or repeat a difficult-to-tell background story.