Welcome Andrew!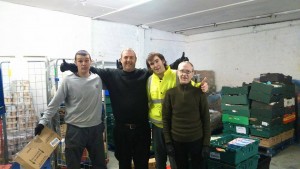 Andrew Goldsmith (second from the left) is the new Warehouse Operator at our Glasgow FareShare depot.
Andrew had a career as a full time chef however, since becoming the single parent of four children, Andrew decided that the antisocial hours of his job did not allow him to prioritise his kids. After being unemployed for some time, Andrew came to FareShare as a volunteer through Learn Direct and quickly became a star member of the Move On team.
Andrew really enjoyed working with the other volunteers at the warehouse and appreciated working towards helping vulnerable people every day. Although retraining and transferring his skills has been challenging for Andrew, he has found Warehouse Supervisor Lynne and Warehouse Manager Scott to be very supportive and inspirational in this transition.
Andrew says that going from a volunteer to Warehouse Operator has been an easy transition and a fantastic opportunity, he credits the great team at FareShare for this.
We're sure you'll join us in saying – three cheers for Andrew!