Morgan and Sarah are two young people who have taken part in Move On's Youth and Community Skills Programme together. They have reflected on their experience and share their stories with you here!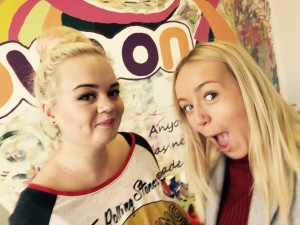 Morgan:
When starting off as a peer educator I was quite apprehensive about what the course entailed however after a couple of weeks of getting to know my fellow peers and the development workers I was able to share my goals and fears. During the YCS course I have learnt about different ways of looking for jobs as well as key skills for interviews, this was important for me because I had recently left school and wasn't sure where I was going. I recently had my first interview and was really nervous although after coming into the Move On office it felt like a massive weight had been lifted. I never realised how easy it is to get information about something you're unsure about… turns out all you need to do is ask. Throughout the course I have become a more confident individual and have learnt how to deal with stress.
My favourite part of the YCS course was taking part in mock interviews to prepare us for when we got one, we had to get into character and answer proper interview questions. I also enjoyed taking part in the workshop with Sam from the Red Cross this was interesting and also a lot of FUN J
Sarah:
When I was first told about the Youth and Community Skills programme at Move On, I was particularly hesitant, especially in working with others and delivering workshops. On the first day, I was introduced to other young peer educators who, like myself, were wanting to gain experience and develop skills. During these 12 weeks at the YCS programme, I started to build my social skills and confidence pretty well, thanks to the support of the Move On staff as well as the other young people in the team. My most favourite parts of the course were meeting new people and being able to develop good friendships with them, learning new things and having a lot of fun!
I also did mentoring, which I wanted to do because I think I needed guidance. I was asked recently if I wanted a new mentor after my other match finished but I don't think I need it the same now. I noticed with my mentor that I wanted to build up my social skills and mentoring helped me with stuff like body language, active listening and becoming more confident. My mentor and me acted out scenarios for social situations like visiting a friend or meeting people you don't know without it being awkward. I felt awkward doing this at first cause it put me on the spot but then I got used to it and started getting better, remembering what to say. I remember what my mentor said to me and I think I've improved with my social skills. There's still moments where I hesitate but not as much. I think 90% of the time, I'm OK now, which is something I'm happy with.