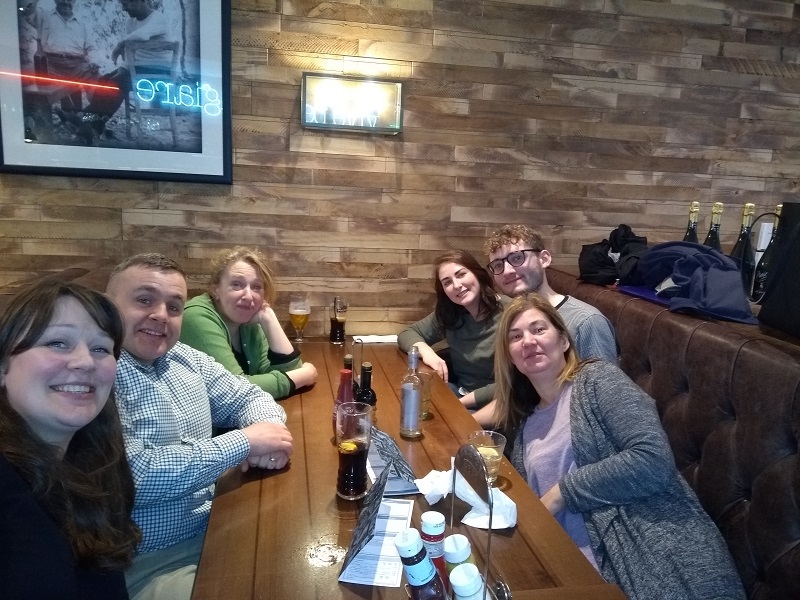 Alexander McBroom (pictured second from the left) recently completing his training to become a volunteer mentor in Edinburgh. He has shared his experience of what attracted him to our mentoring service, and how he feels after completing his training:
"While talking to a member of Move On during the 2017 'Sleep in the Park' event, I decided to try my hand at volunteering as a mentor. I looked into what Move On do and felt that I may be able to add a bit of value. Their values, aims and effect appealed to me.
After a few emails between Move On and I, I was invited to attend a short introductory meeting, which was hosted by Ross in the Edinburgh office. Immediately, I was put at ease and I felt very relaxed in his company. In preparation for the meeting, I gathered the relevant information required to fill in my PVG (Protecting Vulnerable Groups) application. A wee bit of work is required to ensure that the application will go through as easily as possible. I was delighted to be invited to attend the mentor training, which would take place over a series of five Saturdays.
The training sessions were excellent. Five of us 'trainees' attended the training, sharing experiences, opinions and thoughts that enhanced the sessions greatly. The Move On staff changed each week, giving us a wide range of information and advice. Their stories of how they managed situations added great value. Our group agreed that the staff were all first class and very welcoming and supportive. We also agreed that we learned a huge amount, ranging from: confidentiality; boundaries and appropriateness; and awareness of discrimination, stereotyping and prejudice. The training was relaxed, open and taken at a pace that allowed all of us to benefit equally – of course, the tea, coffee and tasty food certainly helped too!
I feel confident to take up the role of mentor and I fully trust Move On to support me as I proceed. I am sure that with the fantastic ethos of the organisation, the training content that was delivered, and our desire to make a difference we will help our young people to 'Move On', even if only slightly."
If you're interested in becoming a volunteer mentor to help make a difference to a young person's life, you can find out more about our mentoring service on our website, or contact our team for a chat.