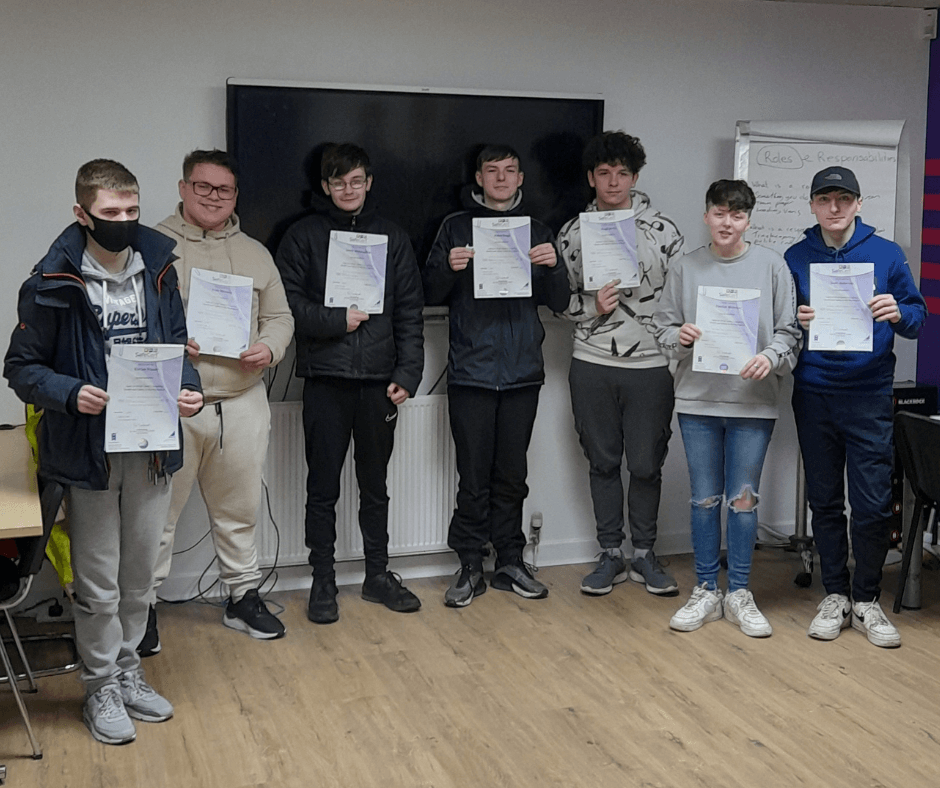 We felt so lucky getting to work with our final group of Employability Fund trainees this Spring!
Our award-winning Glasgow-based Employability Fund was an 8 week training course for 16-17 year olds not in employment or education. A mixture of classroom-based learning and hands-on experience at our FareShare Glasgow and the West of Scotland depot, the course offered our young people the opportunity to gain employment-focussed qualifications and practical work experience. Our course leaders also offered our young people personalised guidance on pursuing employment or further education. This included help with CV writing, interview prep, and searching for new opportunities.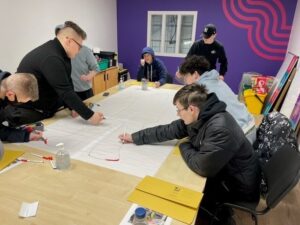 We also look to achieve soft outcomes with our employability trainees. Our young people come to us for lots of different reasons. They've usually struggled to engage with education, find a job, or just figure out where they want to go next. They often have challenges in their backgrounds, creating personal barriers to employment which they need to overcome. We help young people who are farthest removed from the world of work, and have little belief in themselves. Through person-centred support, we help them to build their confidence, resilience and self-image, and improve their mental health.
We saw huge success with the course throughout its lifetime, and were delighted to receive the 2021 SURF award for Supporting Youth Employability. Although Scottish Government funding for the scheme finished up in March of this year, we've got exciting plans underway for a new course to take it's place. We hope to finalise plans and launch this very soon – watch this space!
The Graduates
We could not be prouder of our final group of Employability Fund trainees. Aiden, Evan, Hugh, Jamie, Kieran, Pauline and Scott gave their absolute all to the course, both in the groupwork room and on the depot floor. We feel so lucky to have had such an amazing, dedicated group for our final round of Employability Fund trainees.
All of our trainees are now moving on to different pathways. We thought it'd be great to give you all a chance to meet our new graduates. You'll find out a little bit more about what brought them to us, and the journey we took together. Most importantly, we'll tell you about the amazing things they're going on to do!
Aiden
Before coming to us, Aiden had struggled with motivation, making it difficult for him to commit to what he wanted to do next. He joined the course a little later than the rest of the group, but everyone was more than happy to welcome him. Thanks to his friendly, open attitude, he instantly fitted in with the team, and made loads of valuable contributions.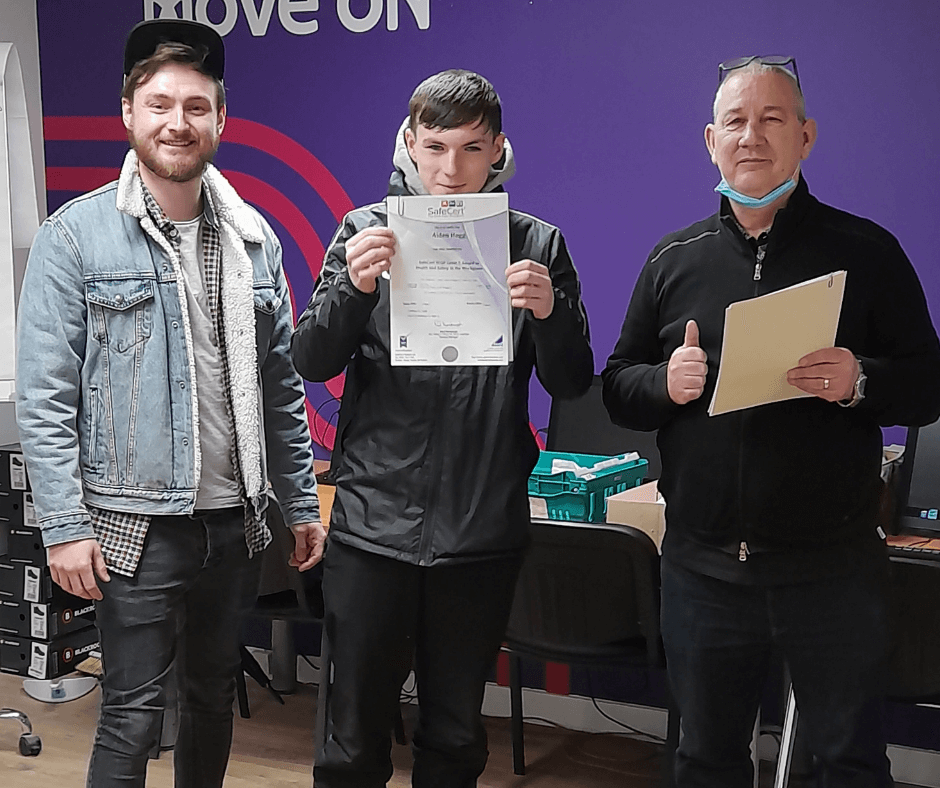 Aiden felt that the key thing he took away from the course was understanding how to get himself into a routine, and find the motivation to get out of bed in the morning. After his brilliant work with us, he felt a new sense of purpose. He won a place on the Tigers Construction Training course. He's now working towards learning further core skills, including gaining his CSCS card. This will perfectly equip him for a career in the construction industry! This is a brilliant, lucrative career path for our young people – we actually work towards this on our Edinburgh-based employability courses through Move On Wood Recycling. We know that with his newfound skills, and hard work and dedication, Aiden has everything he needs to do brilliantly. Congratulations Aiden!
Evan
Evan had tried a number of different courses before coming to us, after struggling to engage with education and overcome his own challenges. He went through a real learning curve while on the course with us. He put a lot of work into re-examining his interactions with other team members, and how to approach social interactions. A big part of what we do with our young people involves helping prepare them for the world of work; much of this involves understanding and demonstrating professional behaviours. We were impressed to watch how he took this on board.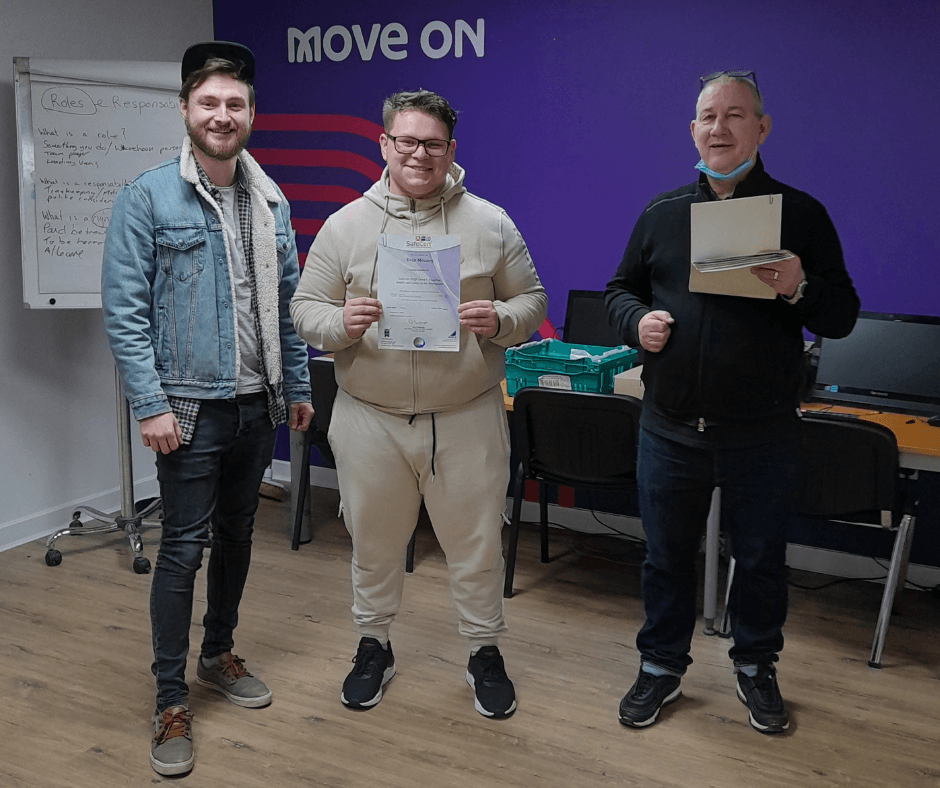 After putting in the work, Evan felt he'd developed much better working practices. He feels he's learned what it's like to be in a working society. Having gained skills like how to write a CV, he felt much less anxious about going out and looking for a job. He's currently exploring some different options and finding his path – we're sure good things are coming for him!
Hugh
Hugh wasn't sure what direction he wanted to take before training with us. The course really helped him focus on what he wants to do, and he realised he had a real interest in exploring a career in hospitality.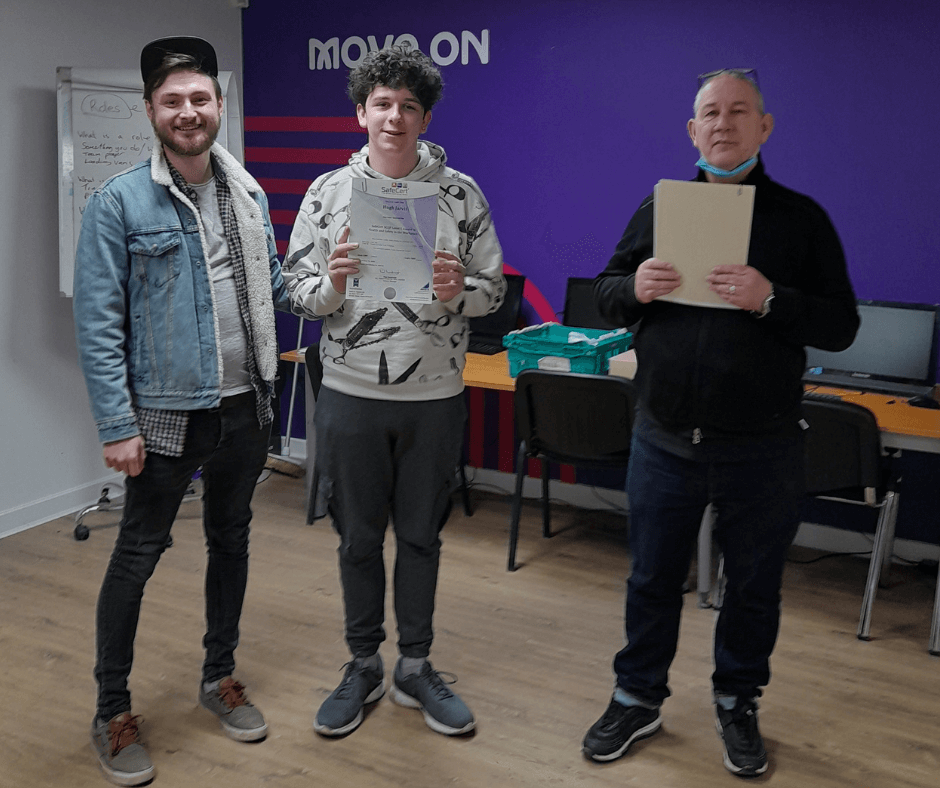 With the help of referrals from Development Worker Michael, Hugh was able to line up several interviews for follow-on courses immediately after finishing up with us. He was ultimately successful in gaining a place on the IHG Hotels & Resorts Hospitality School, in association with Action For Children and Hub International. Through this he learned a range of core hospitality industry skills. He was also able to gain key work experience through a placement at 5 star Glasgow venue, the Blythswood Square Hotel.
The team at the Blythswood were super impressed with Hugh's brilliant attitude and hard work. At the end of his placement, they offered him the chance to interview for a permanent position. By drawing on his newly learned skills, he was able to walk confidently into the interview, and absolutely smashed it! He found out immediately before his IHG graduation ceremony that he'd been offered a job as Banqueting Assistant. Keep an eye out for him at any events you might attend at the hotel in the near future!
Hugh credits his Move On Development Workers Michael & Shug massively in helping him on his way to success. By guiding him through the course, they helped him find his path, and realise his love for hospitality.
We're so proud, and we know he's going to do brilliantly!
Jamie
Jamie's attendance and motivation while studying on the Employability Fund were fantastic. After leaving education, he'd tried a number of other courses, but never felt able to see them through. Not only did he complete our course, he shared at the end that he felt he'd be able to go on and do the same in future.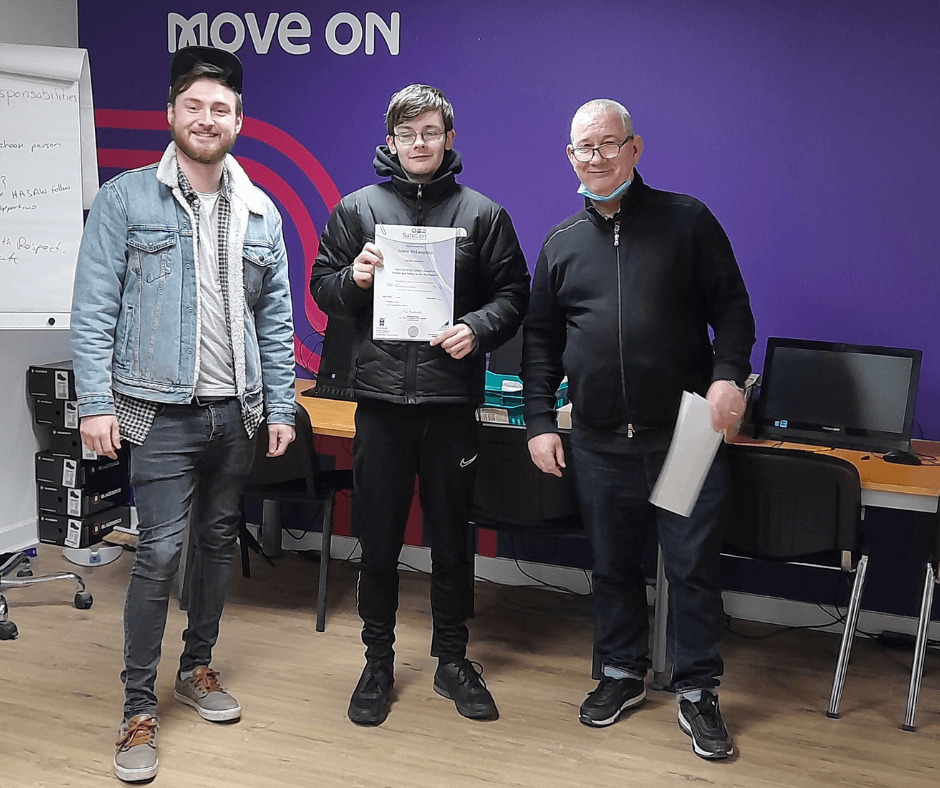 He's since spent some time studying on the IHG Hospitality Course alongside Hugh. Hub International tutors Mhairi and Stephanie both shared how brilliantly he performed in each task he was set, and how much they enjoyed working with him. Jamie's now taking some time to decide whether he wants to pursue a hospitality career like pal Hugh, or whether another path will be the right choice for him. We can't wait to see what he does next!
Kieran
Kieran knew when he joined the course that the biggest barrier he'd need to overcome was his lack of confidence. The other trainees shared that they noticed quickly how shy he seemed when he first came on board. At the start Kieran spoke very little, and struggled to take part in the chat with our (rowdy in the best way) gang. They were all impressed with how he overcame this to fit in brilliantly with the team, contributing to tasks and forming relationships. It was clear to us all that his confidence was way up by the time he graduated, which Kieran shared that he also felt in himself.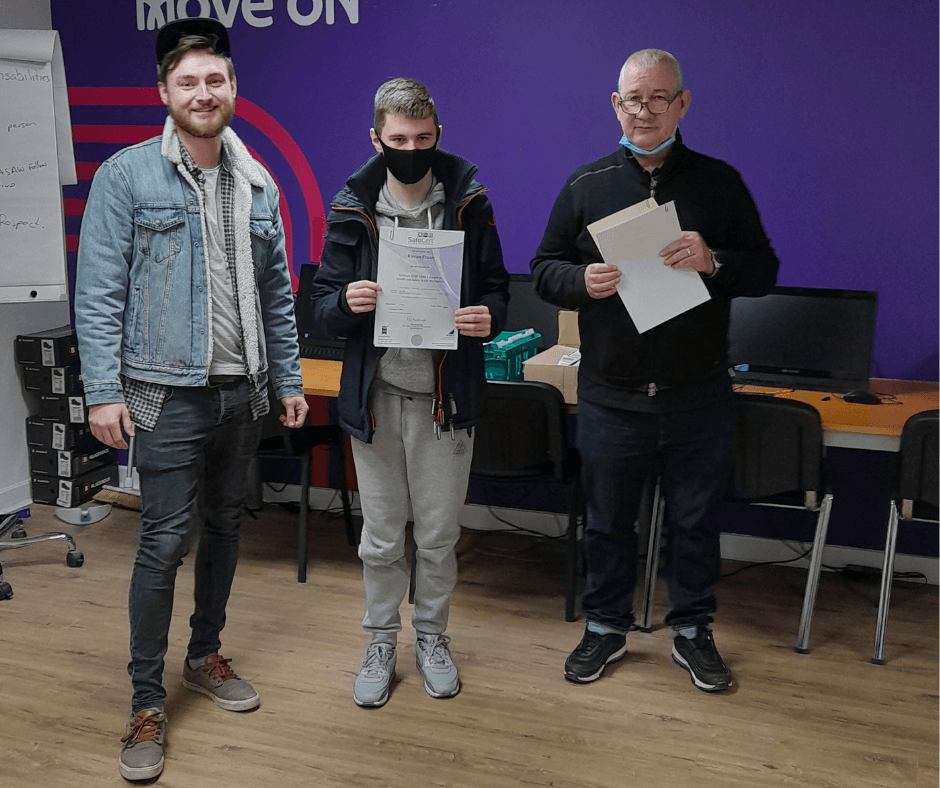 As well as this, Kieran really valued the opportunity the course gave him to get real work experience. In addition to making a great entry on his newly written CV, training with us also gave him a real sense of how it feels to work a job everyday. He's since secured a place working with the Pathfinder project, gaining more experience in the surplus food and distribution trade. Even better, he's working for The Pantry in Shettleston – one of our wonderful FareShare Community Food Members! Amazing work Kieran!
Pauline
Like Kieran, Pauline had to overcome her shyness when she first joined the Employability Fund. She was able to do this brilliantly by taking part in team-building activities with the group, and working together on the depot floor. We watched her give it her all the whole way through.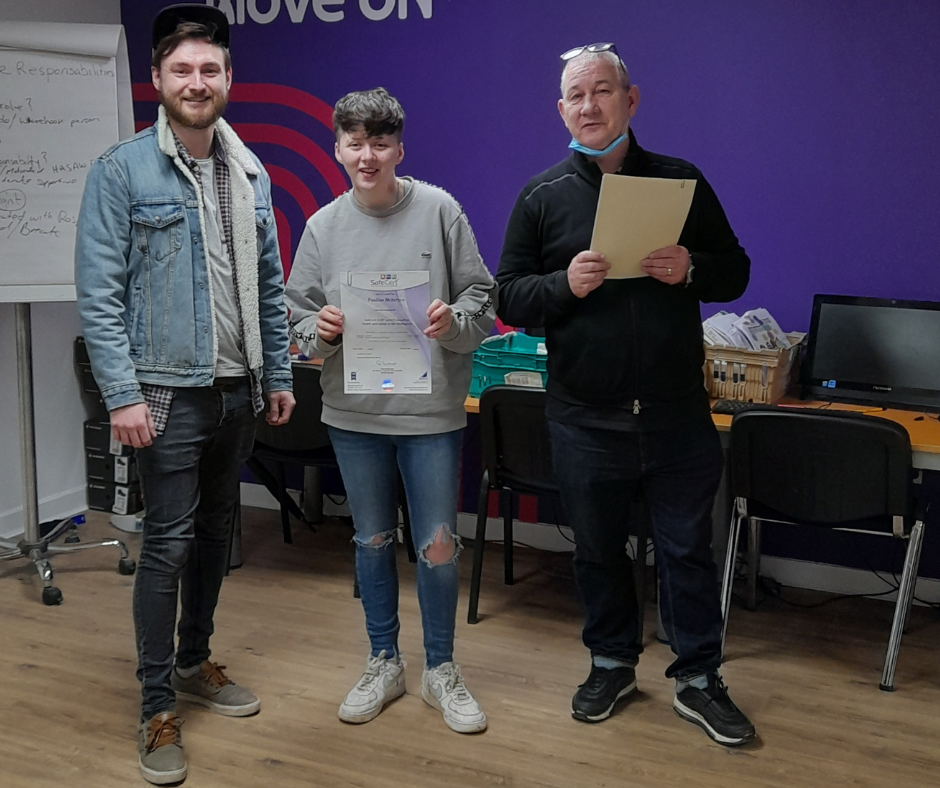 In the end, she formed such strong relationships that they provided her biggest motivation to keep showing up; for the course, and for herself. After having to self-isolate mid-way through the course, her motivation took a massive knock. She considered quitting as she worried about what she might have missed out on. However, she knew she'd made such good friends on the course, she really wanted to see them again. This helped motivate her to come back, and successfully complete the rest of the course!
Pauline has since secured a job working in retail with B&M! She's putting her new-found confidence and talkative energy to use providing great customer service.
Scott
After leaving education, Scott put himself forward for loads of jobs, but was never offered the position. He felt held back; not having had the chance to gain experience, he was always really anxious in interviews. Scott's confidence and motivation had been badly knocked. He even told Shug and Michael at the start of the course that he was sure he wouldn't find it in himself to turn up all of the time. In the end though, he had the highest attendance rate out of everyone in the group! Not only that, we frequently saw him motivating his fellow trainees, building great relationships and showing strong leadership skills.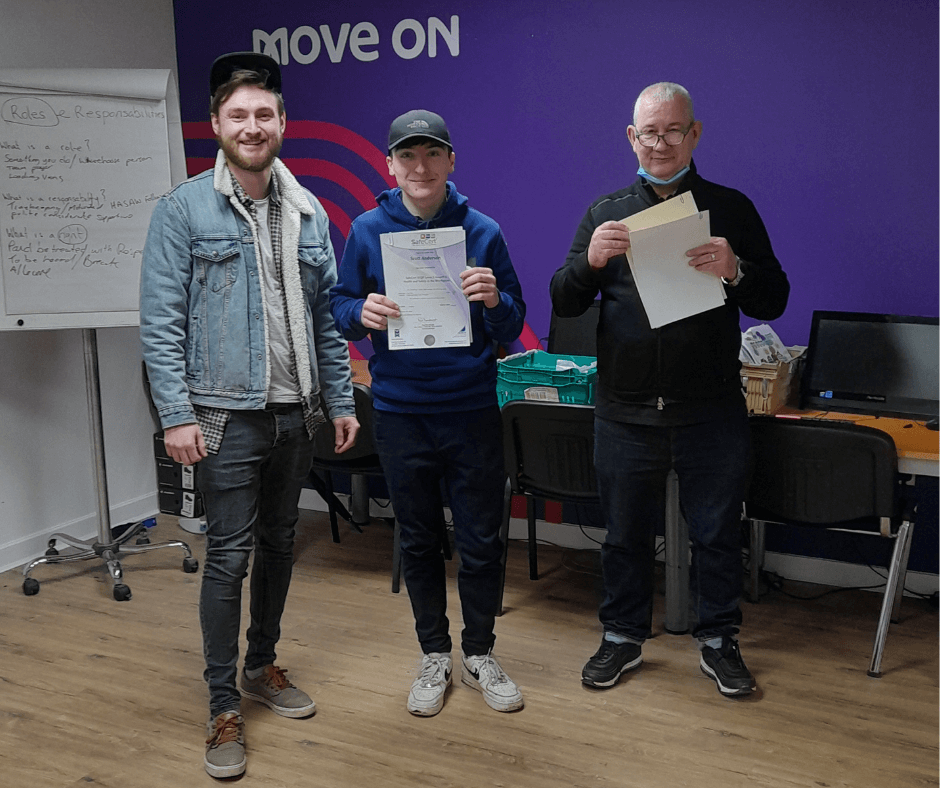 After training with us, he felt confident that he could walk into interviews and breeze through them with his new skills. As a result, he's been successful in securing a place with Pathfinder. Like Aiden, he's working towards gaining his CSCS Labourer card, which will equip him perfectly for a career in the construction field. Actions speak louder than words – we've watched Scott consistently show up for himself, and make the choice to find his path. He demonstrated all the qualities he needs to do brilliantly in his chosen field. We're so lucky to have helped him on the first steps of his journey; we know he's destined for success!
Congratulations Team!
Development Workers Michael and Shug shared that they felt absolutely blessed working with this brilliant group of graduates. Our final crew were one of the most dedicated we've ever seen in terms of attendance and commitment, and they've taken our award-winning course out on a high.
As with all of our trainees, Move On's door is always open to them. We know they'll all keep doing amazing things, and we just hope they all continue to stay in touch!
More Information
If you've been inspired by our trainees' stories, why not find out more about our current employability training opportunities?
We also share good news stories like this daily on our Facebook, Twitter and LinkedIn pages – give us a follow, and go like and share!
Or if you prefer your stories straight to your inbox, why not sign up to our brand new monthly e-newsletter?
We'll be back soon with more stories from our brilliant trainees!