Through our intandem delivery, partnerships with Champions Boards across the country and our strides towards becoming a trauma informed and skilled organisation, our determination to #KeepThePromise has been central to our work over the past year.
While the past 12 months have presented unique challenges, I'm proud of the progress Move On has made across our different services and our commitment to provide the right support for Scotland's children, young people and families.
intandem
Developed by Inspiring Scotland for The Scottish Government, intandem is Scotland's mentoring programme for 8-14 year olds who are looked after at home. We're proud to be the charity partner delivering the programme in Edinburgh and the Lothians.
While lockdown meant our mentoring service had to move online, with our children, young people and mentors keeping in touch by phone, text and video call, our intandem staff continued to meet families at home to provide support. This was a unique role for our intandem team, as the only staff that continued to deliver outreach work in the community, as we identified a particular need.
The support offered was varied and bespoke. We recognised that getting online was an issue for many families in an increasingly digitalised world, which is why we provided electronic devices and extra minutes and data. We also provided power cards and electricity meter credit, as well as food parcels and supermarket vouchers.
Our focus was on listening to our children, young people and families to find out how to best support them. For some children and young people, the switch to virtual contact with their mentor gave them a new confidence to talk and connect, for others we provided regular activities and challenges to inspire engagement. As restrictions eased, some of our matches chose to stay online, while we supported others to meet face-to-face in a safe way.
Champions Boards
Champions Boards are forums which create a unique space for care experienced young people to meet with key decision-makers, service leads and elected members to influence the design and delivery of services which directly affect them.
We work with Champions Boards across Scotland to support the groups to set up and run their own mentoring services, whether it's with adult mentors or peer mentors – the choice is up to the young people.
Our work with Champions Boards has continued through the pandemic, with all information and training sessions with young people moving online.
The partnerships are entirely led by the young people on each Champions Board: they decide if they're interested in establishing a mentoring service or not, and what that service will look like. Working with 21 Champions Boards across Scotland, we strive to offer flexible and unique partnerships, involving the young people in a meaningful way to create a mentoring service that best suits their needs.
Trauma Informed and Skilled organisation
Move On is currently in the process of becoming a Trauma Informed and Skilled organisation. We recruited for a Trauma Skilled Co-ordinator to join the organisation in March 2020, increasing the capacity of our staff and volunteers to support people to improve their wellbeing and mental health.
To start this process, we are building on our current practice and embedding the NHS Education for Scotland Knowledge and Skills Framework and The Scottish Psychological Trauma Training Plan in our services.
We are now following the Trauma Informed Principles set out by NHS Education for Scotland:
Choice
The person has choice about activities they are involved in and have a choice about when and where this will take place
Safety
The person feels safe in the environment they are working in and in their personal life
Empowerment
The person has control of and takes an active role in what happens, and we are clear about what is going to happen and when (e.g. meetings, phone calls, service endings, etc.)
Trust
We are consistent and stick to what we say, explaining why we can't do something if we can't
Collaboration
Work together, openly communicate and don't make decisions for someone
Move On senior leaders have pledged their support to this approach.
We believe that working towards becoming a trauma informed and skilled organisation will support our commitment to #KeepThePromise, strengthening our resolve to value the contribution of people with lived experience in our service delivery.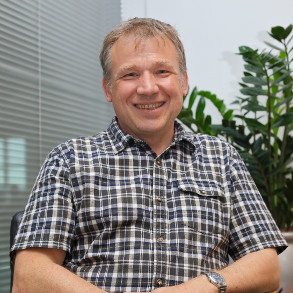 John Hinton, Executive Director