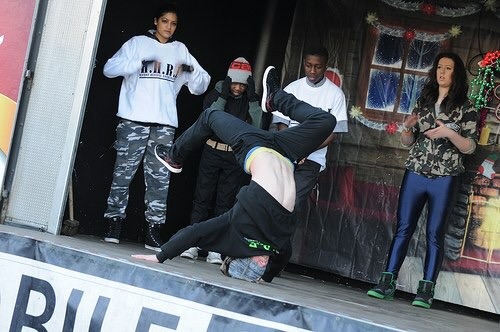 I was introduced to Move On by my pastoral care teacher in 5th year. I had been selected due to some issues at home, outside school and just generally needing some development as a person. I was paired up with my mentor after meeting a few different people along with Shug, my key worker, who was a great help during the process. We selected our paired activity to be break dancing. We done brilliantly together we learned a lot and it kept us fantastically fit. I really caught on to sport and before I knew it I was practising all the time, everyday and then again on our paired mentor evenings. Eventually we had reached our goal through our activity and my mentor and I parted ways; however I kept dancing afterwards. I went on to achieve brilliant things such as:
Performing regularly on Buchanan Street, Glasgow
Becoming Scottish Champion in 2012 and Runner Up in 2013
Placing 8th at UK championships
Winning my school talent show
Performing festivals and shows around Scotland such as the Merchant City Festival and "Burns n aw that"
Appearing as an extra in the movie "Streetdance 2"
Teaching in various places in Scotland
I then went on to study for an NC in dance at Reid Kerr College.
Move On introduced me to something that completely changed my life for the good, that pushed me to achieve better things and develop into a better person. Anyone who has the chance to be involved with the people that make this project happen should jump at and really make the most of it. I hope it continues to help and better people for many more years to come.