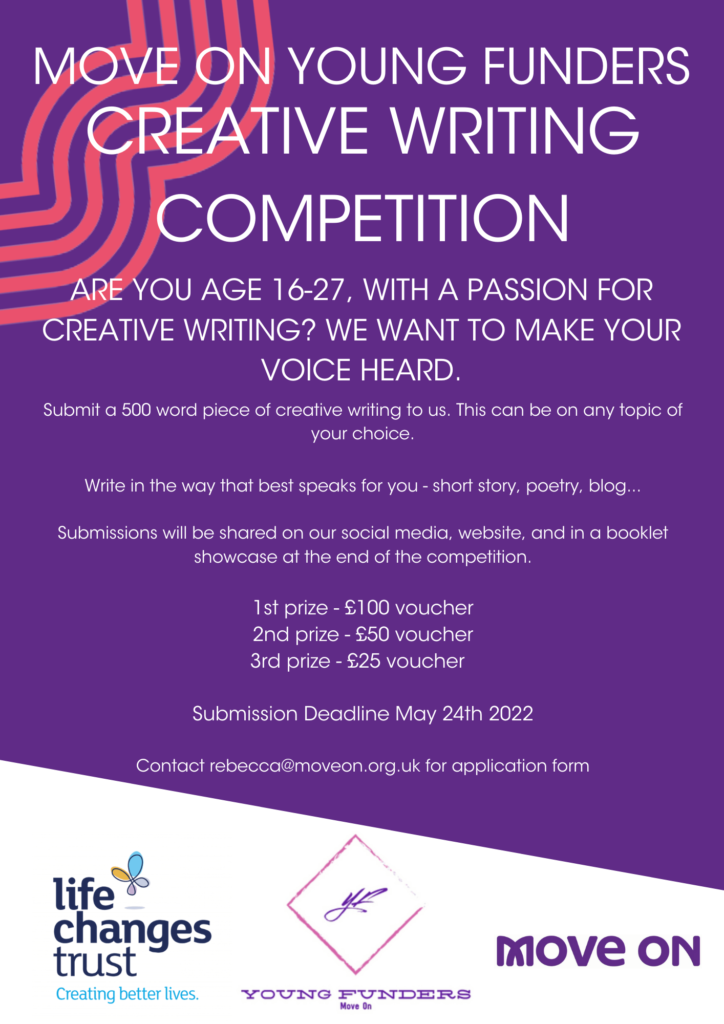 We're so excited to launch our first ever Young Funders Creative Writing Competition!
The project has been devised by our Move On Young Funders group, in association with and funded by the Life Changes Trust. Our Young Funders are a group of young people with care experience. With our support, our Young Funders explore, research and reach out to other young people. Their chief aim is considering how funding should be used to benefit the whole care-experienced community.
Competition Brief
We're inviting young writers aged 16-27 to submit a 500 word written piece to us on any topic of your choice – please, feel free to get creative; we want to make your voices heard!
Writers can choose to submit in any creative writing style they like. Short story, poem, blog article, screenplay, script; choose the format that most speaks to, and for, you! While the choice of topic is entirely yours, we believe that the best work often comes when you draw on your lived experience in some way. In line with the aims of the Young Funders group, we're especially keen to hear from young people with care experience.
Make Your Voice Heard
We will share all submissions (with writer's permission) through our social media platforms, blog, and monthly newsletters. We'll also produce a booklet showcasing all entries at the end of the competition. We can publish your piece anonymously if you prefer; just let us know on the submission form.
If you would like to submit an accompanying artwork, illustration or photograph to be published along with your written piece, we absolutely welcome this. Please do express yourself as creatively as possible!
If you'd like to get involved, but feel you need a little more guidance – have no fear! Our literacy team will be running three online workshops ahead of the submission deadline, open to all budding writers – dates TBC.
What You Could Win!
And of course, it would hardly be a competition without prizes! We'll be holding an awards ceremony at our Glasgow office to announce the winners;
1st Prize – £100 high street voucher
2nd Prize – £50 high street voucher
3rd Prize – £25 high street voucher
How To Apply
To apply, please send your completed submission of no more than 500 words to rebecca@moveon.org.uk by 5pm on 24th May.
Please send your written piece using this Submission Form and Photography Consent Form. Please note we cannot publish applications submitted without these forms.
You can also contact Rebecca with any questions.
We can't wait to read all of your brilliant writing!