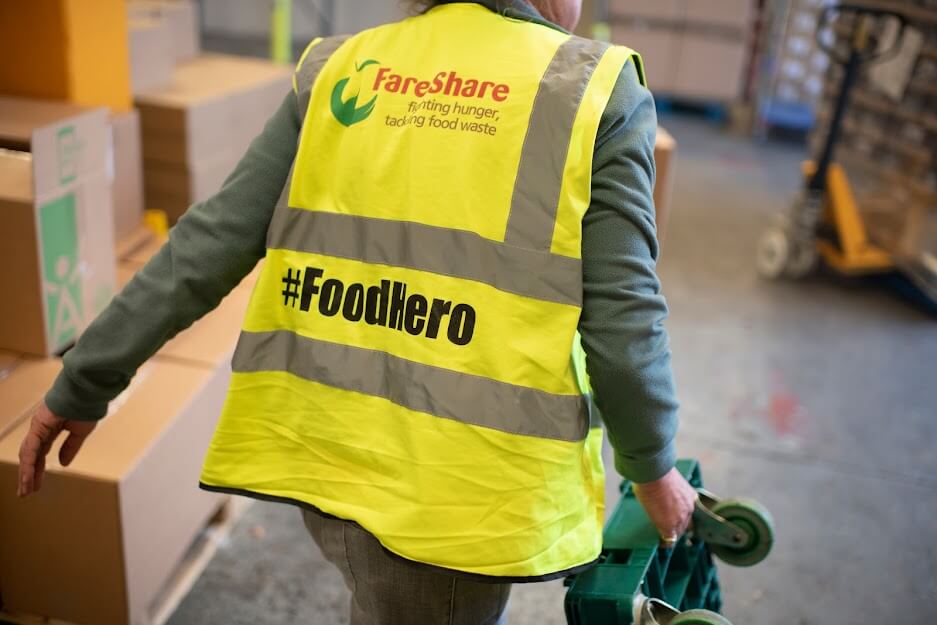 Volunteers wanted! Are you looking for a new opportunity to give back? Why not volunteer at our social enterprise, FareShare Glasgow & the West of Scotland (FSGWS)?
With so much going on in the face of the cost of living crisis, and so many people running on empty, we're finding ourselves busier than ever. We need all hands on deck – we want lots of people to get involved. Currently our main needs are for Volunteer Warehouse Assistants, and Volunteer Van Drivers. By volunteering with us, you can play a key part in our mission to reduce waste, and feed those most in need.
FareShare Glasgow & The West of Scotland
FareShare Glasgow & the West of Scotland works to fight food poverty, while reducing waste. We send quality surplus food, which would otherwise go to landfill, to over 100 frontline charities, or Community Food Members (CFMs). Our CFMs work with the most vulnerable people in society, and include homeless shelters, refuges, pantries and community centres.
Millions of people across the UK are severely affected by food poverty. As a result of the pandemic, economic crisis, and soaring food prices, we expect this to worsen in the coming months. Every month, more than 81,000 people in need access food provided by FSGWS. In 2021, we delivered more than 3.5 million meal portions to those most at risk of going hungry.
These deliveries also saved 1500 tonnes of good-to-eat surplus food from going to waste at landfill, at an approximate value of over £5.3m. Every tonne of surplus food saved by FSGWS also saves the wastage of 1.5 million litres of water, and 1.6 tonnes of harmful CO2e emissions.
FSGWS is central to our main aim at Move On; supporting those furthest removed from the world of work. FSGWS is our main source of work experience, training and volunteering opportunities. We offer a supportive environment for people to learn and develop key employability skills. As a user-led organisation, we pride ourselves in investing in this essential part of our service. We support volunteers, trainees and service users alike with careers advice, literacy and numeracy skills, and gaining qualifications. We can then guide them through the process of CV writing, job-hunting, and interview prep.
So how can you get involved?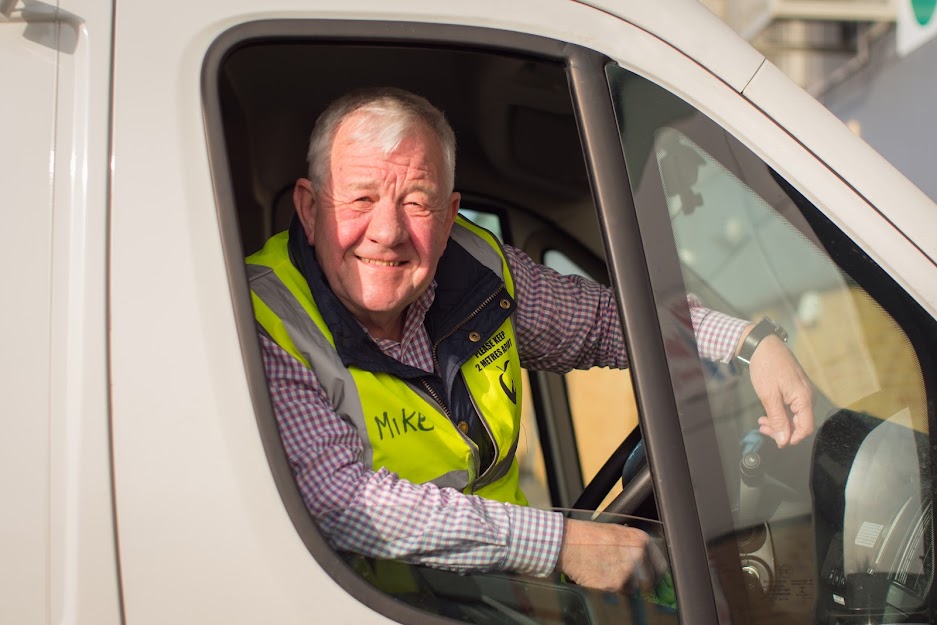 Volunteer Van Drivers
Our drivers are vital to the work of FareShare, ensuring food is collected from our food suppliers, and makes it safely to the frontline charities we support. As one of our volunteer drivers, you'll;
Safely and courteously drive our vans to deliver and collect food
Represent FareShare and Move On in a friendly, professional way
Complete any necessary paperwork
Plan routes, sort food, pick orders, load and unload the vans
Carry out routine checks on the vans, taking responsibility for them throughout the day and reporting any accidents or damage
Assist in general maintenance and cleaning of the vans
All you need to get involved is a standard driving licence, and time to give once or twice a week delivering food to organisations helping some of the neediest people in our local communities. It'll also help if you're physically capable, as some heavy lifting may be involved.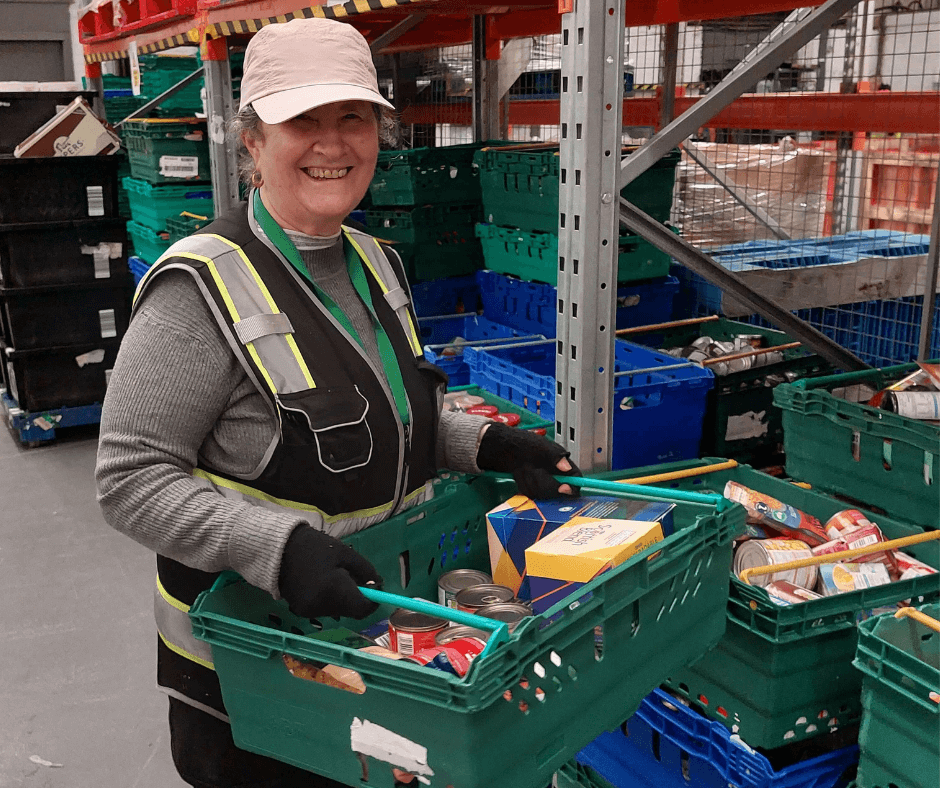 Volunteer Warehouse Assistants
Volunteer in our warehouse, helping sort the food we receive from our food partners, and pick daily orders for charities. As well as making a genuine difference to those in need, it'll keep you on your toes – a great way to keep fit, all you need is a sturdy pair of hands! As a volunteer warehouse assistant, you'll;
Work with the team to manually sort and store large deliveries of surplus food
Help assemble the daily deliveries for local charities and community groups
Make sure all food received is within use by dates, and stored and handled safely
Get in touch with our charity members to discuss collections and drop-off times
All you need to get involved is time to give whenever you can. By doing so, you're helping us get food to organisations helping some of the neediest people in our local communities.
Get Involved
FSGWS opens 5 days a week – 9am-5pm Monday to Friday. We need help every day. Whether you can commit to a couple of days per week, or even just the odd hour here and there, you can make a difference, and we want to hear from you!
We welcome people from all backgrounds, and provide full training and support. You don't need to have previous depot experience to make a difference, just a desire to help and a willingness to learn.
The most important thing we look for in our volunteers is a team player who shares our values. You'll need excellent communication skills, as well as a commitment to the Move On & FSGWS ethos of equality and diversity. As working with Move On means meeting with people from all walks of life, it's essential that you can communicate effectively with a diverse range of people. You'll need to build excellent relationships with volunteers, suppliers, CFMs, and the wider FareShare network.
How To Apply
If this sounds like the volunteering opportunity for you, please complete our online form and we'll be in touch ASAP.
More Information
For further information about volunteering at FareShare please contact johnc@moveon.org.uk.
We also share all vacancies and opportunities, as well as good news stories from the work we do at Move On, on our Facebook, Twitter and LinkedIn pages. If you'd prefer this direct to your inbox, you can also sign up to our new monthly e-newsletter.
For general enquiries, please fill out our online contact form, and a member of the relevant team will be in touch ASAP.