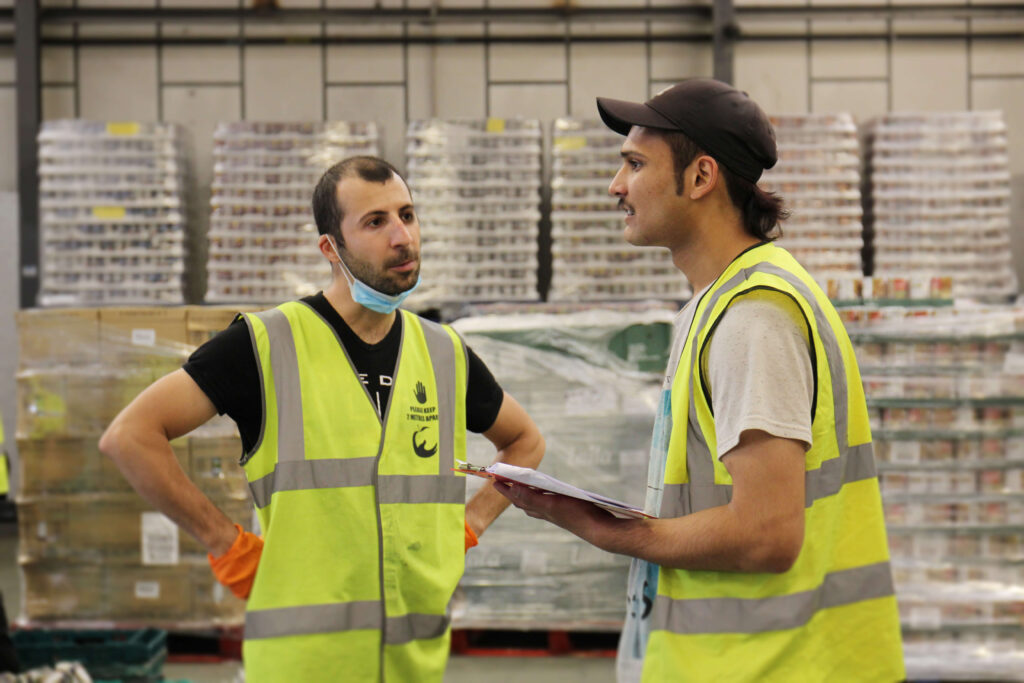 Job Title: Depot Development Worker
Salary: £22,330 to £24,881 (It is Move On policy for all new candidates to start on point one of the salary scale)
Hours: 35 hours per week (we welcome applicants who wish to job share and/or work part-time)
Contract Type: Permanent
Location: Glasgow
Closing date: Friday 27th May
About Us
Move On is a mentoring, employability and support charity. We work with vulnerable people of all ages, particularly young people aged 14-25. Our mission is to help our service users take their next steps to lead an independent, fulfilling life.
We also run two social enterprises – Move On Wood Recycling (MOWR), and FareShare Glasgow & the West of Scotland (FSGWS). MOWR is a sustainable waste wood collection service and retail business. FSGWS is a regional centre for UK-wide surplus food redistribution charity FareShare. Both are actively involved in our work supporting employability, and provide training and volunteering opportunities.
The people we support are vulnerable for many reasons. These include poor mental health, substance misuse, care experience, homelessness, and debt. Many have experienced trauma, neglect and abuse, and gained few qualifications and skills due to lack of opportunity. They often suffer from low levels of confidence and motivation as a result.
We're committed to providing opportunities. By doing so, we offer people an equal chance to reach their full potential, and find their path.
FareShare Glasgow & The West of Scotland
FareShare Glasgow & the West of Scotland works to fight food poverty, while reducing waste. We send quality surplus food, which would otherwise go to landfill, to over 100 frontline charities, or Community Food Members (CFMs). Our CFMs work with the most vulnerable people in society, and include homeless shelters, refuges, pantries and community centres.
Millions of people across the UK are severely affected by food poverty. As a result of the pandemic, economic crisis, and soaring food prices, we expect this to worsen in the coming months. Every month, more than 81,000 people in need access food provided by FSGWS. In 2021, we delivered more than 3.5 million meal portions to those most at risk of going hungry.
These deliveries also saved 1500 tonnes of good-to-eat surplus food from going to waste at landfill, at an approximate value of over £5.3m. Every tonne of surplus food saved by FSGWS also saves the wastage of 1.5 million litres of water, and 1.6 tonnes of harmful CO2e emissions.
FSGWS is central to supporting our main aim at Move On; supporting those furthest removed from the world of work. FSGWS is our main source of work experience, training and volunteering opportunities. We offer a supportive environment for people to learn and develop key employability skills. As a user-led organisation, we pride ourselves in investing in this essential part of our service. We support volunteers, trainees and service users alike with careers advice, literacy and numeracy skills, and gaining qualifications. We can then guide them through the process of CV writing, job-hunting, and interview prep.
The Role
With our services more in need than ever, we're looking to recruit a new Depot Development Worker. Based in the FSGWS depot in South Street, Glasgow, you'll work alongside our highly motivated staff and volunteer teams.
The main purpose of this role is to help structure, plan and manage the flow of surplus food around our network, providing essential supplies to those most in need. You'll help our team to ensure that the FSGWS depot is always a safe, efficient and welcoming place to work, train and volunteer.
You'll also support and train our volunteers, trainees and service users, ensuring they're fully motivated to provide the best service to our FSGWS stakeholders.
Role Requirements
Our ideal candidate is keen to learn, committed and imaginative. You'll have strong numeracy, literacy and organisational skills. Experience of working in a busy depot environment is essential, as is an understanding of health & safety, food hygiene, stock control, logistics, and basic IT packages. Please note the role requires a full driving license.
Most importantly, our perfect depot development worker will have excellent written and verbal communication skills. Working with Move On means meeting with people from all walks of life. It's essential that our team members can communicate effectively with a diverse range of people, building excellent working relationships with volunteers, suppliers, CFMs, and the wider FareShare network.
Benefits
25 days annual leave and 9 bank holidays for the first 2 years of service, increasing to 28 days and 9 bank holidays after 3 years

Flexi-time

Option to buy additional annual leave

 

Annual personal volunteering day

Individual training allowance and commitment to CPD

 

TOIL system

The opportunity to be part of a dedicated, welcoming team
The chance to make a difference, and help change lives
More Information
For further information about the role please contact Scott Crawford (FareShare Operational Manager) on scott@moveon.org.uk.
Please see the relevant pages for more information on our employability programmes, and FareShare services.
How to apply
Please download the application pack and email completed applications to scott@moveon.org.uk by the 27th May 2022.
Policy on Recruitment of Ex-Offenders
Disclosure of previous convictions information