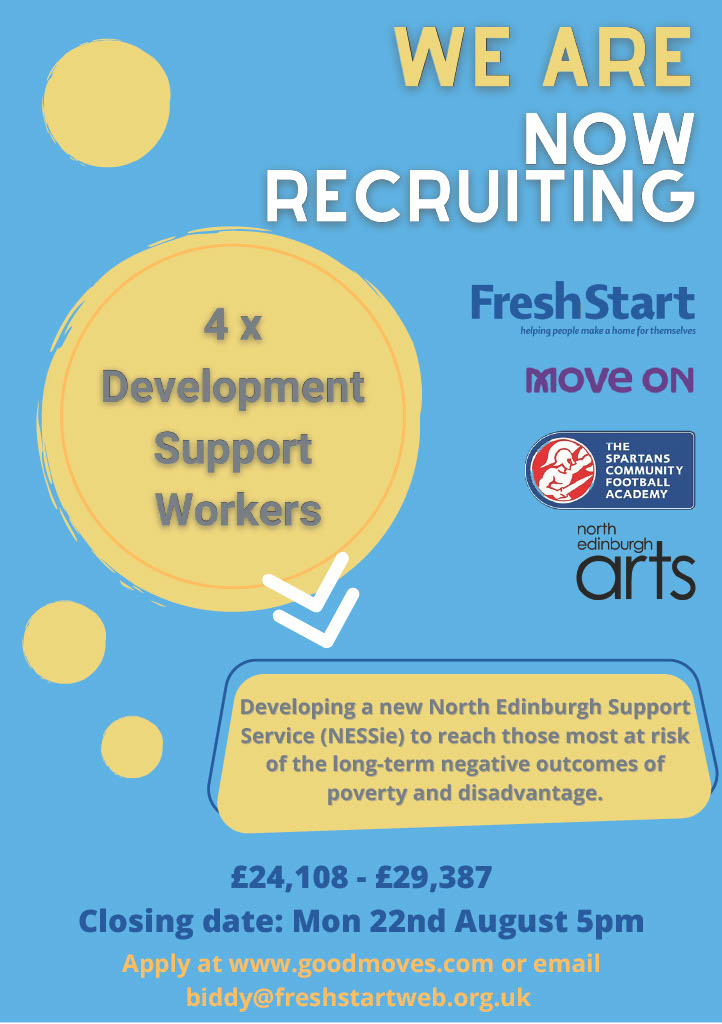 Job Title: NESSie Development Support Workers, Edinburgh (x 4)
Salary: £24,108 – £29,387
Hours: 37 hours per week. The role operates on a flexi-time system;
Monday – Thursday 8.30am – 5pm
Friday 8.30am – 3pm
Occasional evening or weekend work will be required, however TOIL will be offered.
Contract Type: Full Time, Permanent
Location: Edinburgh
Closing date: Monday the 22nd of August, 5pm
We're now hiring four new Development Support Workers to form an innovative team to lead on a new project!
Do you have proven experience working in community development, a passion for fighting the impact of poverty and social disadvantage, and a real desire to help people in need? If so, why not join us, and play an important role at the heart an exciting new partnership.
About NESSie
The North Edinburgh Support Service, or NESSie programme, is an exciting new consortium projeact. Move On are so excited to have partnered with fellow third sector organisations Fresh Start, North Edinburgh Arts, and Spartans Community Football Academy to create an innovative new support network for vulnerable people across the North of Edinburgh
NESSie will reach out to those most at risk of the long-term negative outcomes of poverty and social disadvantage. We'll support our service users to access and sustain the services that they need. The various strengths of the four partners will allow us to deliver a broad programme of activities and opportunities across the North of Edinburgh.
The NESSie project aims to create a "no wrong door" approach to people seeking support, advice, and access to services.
The Partners
The four NESSie partners are aligned in ethos and values, and have long-standing, trusting relationships. We share a passionate commitment to collaborative work. Combined with the individual and shared strengths of each organisation, this gives us the potential to help countless people in need.
Move On Scotland – Move On is a mentoring, employability and support charity. Our mission is to help our service users take their next steps to lead an independent, fulfilling life. We're committed to providing opportunities, and take a person-centred, trauma-informed support to all of our practices. In doing so, we offer our people an equal chance to reach their full potential, and find their path.
Fresh Start – Fresh Start is a homelessness support charity, helping people who have been homeless get established in their new home. They deliver a range of services which provide the practical and social support needed to help people re-settle successfully. Fresh Start help people make a home for themselves.
North Edinburgh Arts – North Edinburgh Arts is a purpose-built cultural centre, offering local residents a place to relax, explore, learn, meet, volunteer and have fun. A loved community spot, attracting over 34,000 visits last year, North Edinburgh Arts creates the space where people can.
Spartans Community Football Academy – Spartans Community Football Academy is a sports facility which is about much more than football. They provide new opportunities to allow more people to access sport, physical activity, and recreational activities. Their vibrant centre, and focus on social impact, provides a 'social home' for people of all backgrounds and ages.
The Role
The Development Support Workers will lead on the NESSie project as a team employed by the four partners. Each partner will host a worker, but the team of four will work together to deliver NESSie's vision.
The NESSie partners deliver a broad programme of activities and opportunities across the North of Edinburgh. These are funded, organised, and led by staff teams in each organisation. As one of our new Development Support Workers, you'll work across sectors and organisations to identify those most at risk. You'll then work to help them to develop their own support network. A key aspect of this is guiding them through engagement with both NESSie partnership resources, and other local opportunities on offer. Once through our doors, you'll provide our service users with ongoing 1:1 support to help them find and sustain their own pathways.
Role Requirements
Our ideal team member is motivated, independent and imaginative. You'll need to have a full driving license, and be educated to degree level – or have equivalent experience.
It's important that you're aware of our aims and values, as you'll need to be committed to upholding them. You'll need good experience of working in community development, co-ordinating volunteers, and managing staff. You'll also need to be able to engage with people in a supportive, person-centred way. As part of a small team, you'll need to be willing to be flexible, and work independently under your own initiative.
Above all, our perfect Development Support Worker has brilliant communication skills. Working with NESSie, you'll meet people from all walks of life. As such, it's so important that our team members can welcome anyone who comes through our door. You'll be key to positively influencing, motivating and enthusing others.
More Information
For more information about the role please contact Biddy Kelly, Managing Director at Fresh Start – biddy@freshstartweb.org.uk
How to Apply
Please complete the below forms, and return to Biddy Kelly, Managing Director at Fresh Start – biddy@freshstartweb.org.uk
Interviews will take place the week beginning the 5th September.